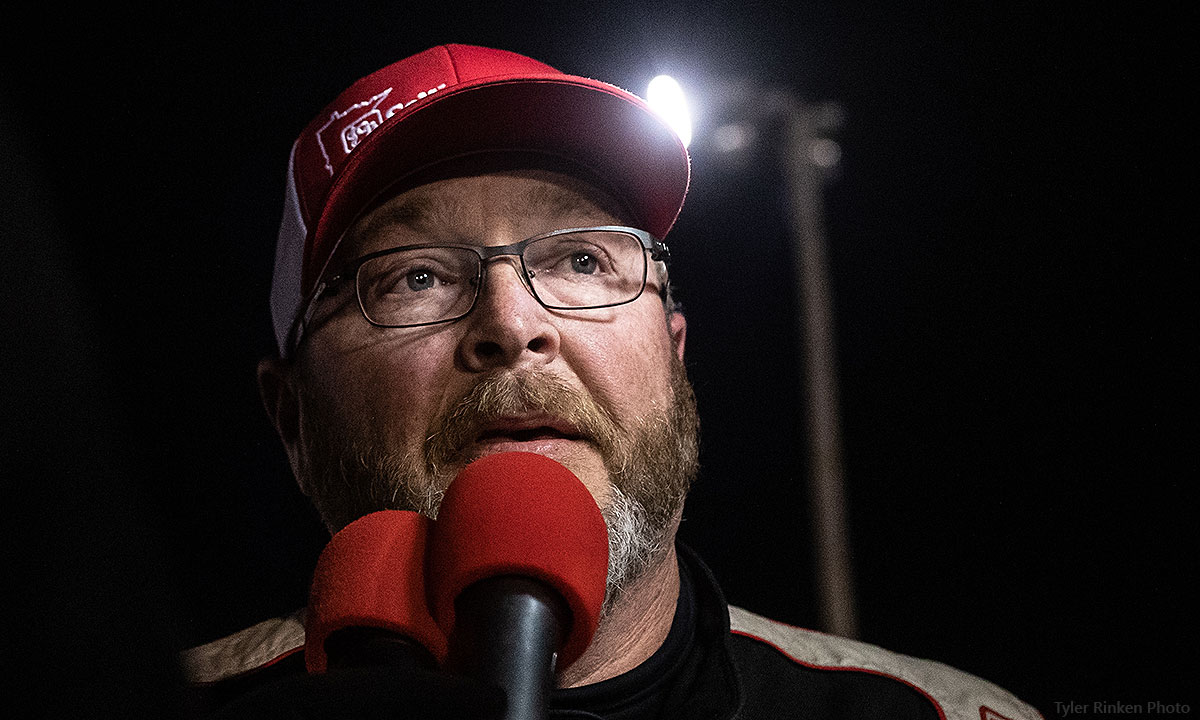 Phillips hoping a little home cooking boosts his chances at USMTS Slick Mist Show-Me Shootout
Over the years, whether it's been in a Modified or Late Model, Terry Phillips has had a love-hate relationship with Lucas Oil Speedway.
The veteran Springfield, Mo., racer has enjoyed some good moments, including Summit USMTS National Championship wins in 2012 and 2014.
He's also had his share of struggles. Three years ago, we was leading a special USMTS weeknight edition and, with six laps to go, saw a mechanical issue end his hopes.
With this Saturday's USMTS Slick Mist Show-Me Shootout presented by Foley Equipment in mind, Phillips entered a USRA Modified program a few weeks ago. It was a competitive test session for his new Bloodline Race Cars chassis and Phillips was fast in hot laps.
Then a broken driveshaft ended his night.
"At first I thought I had a flutter in the motor and a little vibration and I shut it down," Phillips said. "We worked on the motor and couldn't find anything. So I went back out there and gassed it and the drive shaft split in two. So I didn't get much test time there."
Despite the frequent struggles at the track closest to home, Phillips is eager to give it another try on Saturday night when the USMTS returns to Lucas Oil Speedway where tghe feature winner will earn $10,000.
"It's nice. We're traveling all over and it's a lot nicer being a little closer to home and we're ready to go," Phillips said.
Phillips said it's been an up-and-down season in his new home-built chassis, with two feature wins in 27 USMTS events. Included was a recent win at Mason City, Iowa, his first since March. He's hopeful that will kick-start positive momentum.
Phillips sits ninth in USMTS points with six top-5 finishes and ten top-10s.
"We didn't get qualified good, but drew the pole," Phillips said of the invert and re-draw process that the USMTS utilizes to set the starting feature field. "I think we've got the speed most of the time or pretty close. It's where you start."
Too often for his liking this season, Philips said he's been fast while winning heat races but the re-draw for the main event hasn't been kind. Starting sixth instead of first or second can crush your hopes to win, he said.
"Speed has been there. Our new car is pretty good," Phillips said. "The way they do their inversion and all that makes it really hard. We've also went to tracks that aren't good to pass on in general. When you set fast time in your heat and you start in the third row, most times you're lucky to pass on car because everybody's within a tenth of a second of you.
"It's tough as it's ever been," he added, describing the quality of competition. "They're paying all this money and it's brought out better cars and younger kids. They've got talent and they have help. Everybody has gotten better. They have better equipment and they do a good job."
Philips announced early this year that he was retiring from a storied career in Late Model racing to focus entirely on Modifieds. He started his new chassis line and has sold a half-dozen cars. Recently, he's decided to bring the entire process back to his shop after first outsourcing the initial stages.
"I went and got all my equipment and jigs the other day and we're working on a building to start doing it here at our shop," Phillips said. "We're kind of on a little lull and we'll start up and this winter we'll hit it hard."
Philips knows that winning is the best marketing for selling his cars. He believes the speed is there to do so and hopes what he found in the trip to Lucas Oil Speedway prior to the driveshaft failure will translate to results on Saturday. It would be sweet to break a long drought in front of his legion of local fans.
"We completely changed set-ups up there and got better, so we're gonna try that and see how it goes," Phillips said. "If it doesn't work, we can put it back and still be pretty good. You're always just trying to get that extra edge."
Whatever happens, Phillips said he's all in on Modifieds. The Dirt Late Model Hall of Famer, four-time Lucas Oil MLRA champion and six-time MARS Series champ said he hasn't missed driving a Late Model one bit.
"I haven't even really thought about it," Phillips said. "I guess I've turned into a fan. I watch it on TV. Strangely, I don't miss it at all. I'd kind of been done with it a couple of years, really. I did it for a long time and now I don't really think about it much."
Dereck Ramirez of Woodward, Okla., has won the last three editions of the Show-Me Shootout including last year when he led wire-to-wire to collect $10,000. He beat Darron Fuqua by 1.1 seconds at the finish.
Four-time series champion Rodney Sanders of Happy, Texas, is leading the Summit USMTS Championship standings by 78 points over Jason Hughes of Watts, Okla., and 117 over Jim Chisholm of Osage, Iowa. Sanders and Chism have two feature victories apiece this season in 27 series starts while Hughes is seeking his first.
Pit gates open at 4 p.m., with grandstands at 5, hot laps at 6:30 and racing at 7:05.
Considered by racers, fans and industry insiders to be one of the top five—if not the best—racing facilities in the nation, the Lucas Oil Speedway features 21 VIP luxury suites, a giant HD Jumbo Tron screen, Musco Sports lighting, Bose Stadium sound system, Go kart slick track for all ages, The Diamond Bar, the best track food in the country, and the nicest pits in dirt track racing are just a few of the amenities that set this place apart from the others.
This this event is happening just two months before the 10th Annual Summit USRA Nationals in October, so look for a massive car count with Medieval USRA Stock Cars and USRA B-Mods also on the program, along with Hermitage Lumber Late Models.
With 16 prior visits by the series to the Lucas Oil Speedway, defending USMTS National Champion Dereck Ramirez has won the last three Slick Mist Show-Me Shootouts. Kelly Shryock, Jeremy Payne and Terry Phillips are two-time winners here.
Jason Krohn, Ryan Gustin, Johnny Scott, Zack VanderBeek, Stormy Scott, Rodney Sanders and Tanner Mullens each have one win in Wheatland, Mo., on their résumé.
The Lucas Oil Speedway is a semi-banked 3/8-mile clay oval located 0.2 mile south of US 54 on SR 83, then east to 18842 Speedway Dr, Wheatland, MO 65779.
Check out the Fast Facts for complete details about the 13th Annual USMTS Slick-Mist Show-Me Shootout presented by Foley Equipment.
For more information, check out lucasoilspeedway.com and follow Lucas Oil Speedway on Facebook, Instagram, Twitter and YouTube.
USMTS POINTS STANDINGS
(top 20 as of Aug. 4, 2023)
1. 20 Rodney Sanders, Happy, Texas ... 2148 (2 wins)
2. 12 Jason Hughes, Watts, Okla. ... 2070
3. 24C Jim Chisholm, Osage, Iowa ... 2031 (2 wins)
4. 0 Jake O'Neil, Tucson, Ariz. ... 2000 (2 wins)
5. 4R Dereck Ramirez, Woodward, Okla. ... 1977 (1 win)
6. 02 Tanner Mullens, Wichita, Kan. ... 1951 (1 win)
7. 60 Dan Ebert, Lake Shore, Minn. ... 1928 (2 wins)
8. 11X Tom Berry Jr., Des Moines, Iowa ... 1869 (2 wins)
9. 75 Terry Phillips, Springfield, Mo. ... 1866 (2 wins)
10. 4W Tyler Wolff, Fayetteville, Ark. ... 1858 (2 wins)
11. 10C Cayden Carter, Oskaloosa, Iowa ... 1856 (2 wins)
12. 33Z Zack VanderBeek, New Sharon, Iowa ... 1839 (1 win)
13. K9 Will Krup, Mt. Carmel, Ill. ... 1786
14. 87 Darron Fuqua, Mayetta, Kan. ... 1724
15. 65X Carlos Ahumada Jr., El Paso, Texas ... 1686 (1 win)
16. 4 Jeremy Nelson, Alexandria, Minn. ... 1623
17. 38T Dylan Thornton, Orcutt, Calif. ... 1526
18. 21K Kyle Brown, Madrid, Iowa ... 1451
19. 49 Jake Timm, Winona, Minn. ... 1400 (3 wins)
20. 10B Brandon Givens, Wichita, Kan. ... 1394
For its Silver Anniversary season, the Summit USMTS National Championship presented by RacinDirt currently features racing at some of America's premier dirt track racing venues. The winners of those events are set to earn more than $300,000 with nearly $2 million in purses and prize money earmarked for the 2023 campaign.
Watch every USMTS event online live and on-demand from anywhere on any device with RacinDirt. To learn more, visit usmts.com and follow the Best of the Best on Facebook, Instagram, Twitter and YouTube. Click here to get USMTS news delivered to your inbox.
USMTS OFFICIAL SPONSORS: American Racer Racing Tires, Beyea Headers, Callies Performance Products, Chevrolet Performance, Fast Shafts, FK Rod Ends, KSE Racing Products, Malvern Bank, Mesilla Valley Transportation, Nitroquest Media, PEM Racing Gears & Drivetrain, RacinDirt, Summit Racing Equipment, Super Clean, VP Racing, Wieland.
USMTS PARTICIPATING SPONSORS: ARMI Contractors, Boomtest Well Service, Boubin Tire & Automotive, Brodix Cylinder Heads, Collins Brothers Towing, D&T Marriott Enterprise, LLC, DAY Motorsports, Duvall Electric, Gunshepherd.com, Hacienda Mechanical, Kenny's Tile, Mel Hambelton Racing, Midwest Wrap Co., Miller Welders, PBM Performance Products, Rancho Milagro Racing, S&S Fishing & Rental, Salty's BBQ & Catering, Shocker Hitch, Shop Quik Stores, YouDirt.com.
USMTS CONTINGENCY SPONSORS: AERO Race Wheels, AFCO Racing Products, Allstar Performance, BigDeal Car Care, Bryke Racing, BSB Manufacturing, Champ Pans, Deatherage Opticians, Edelbrock, Hooker Harness, Hyperco, Integra Racing Shocks and Springs, JE Pistons, K1 RaceGear by Ryan Bowers Motorsports, Keyser Manufacturing, MD3, MSD Performance, Penske Racing Shocks, Performance Bodies & Parts, QA1, Quarter Master, RacerWebsite.com, Real Racing Wheels, Simpson Performance Products, Swift Springs, Sybesma Graphics, Wehrs Machine & Racing Products, Willy's Carb & Dyno Shop, Wilwood Racing.
USMTS RACETRACKS: 81 Speedway, Ark-La-Tex Speedway, Arrowhead Speedway, Cedar Lake Speedway, Deer Creek Speedway, Fayette County Speedway, Hamilton County Speedway, Humboldt Speedway, I-70 Speedway, Lakeside Speedway, Las Vegas Motor Speedway Dirt Track, Lucas Oil Speedway, Mason City Motor Speedway, Ogilvie Raceway, Rocket Raceway Park.