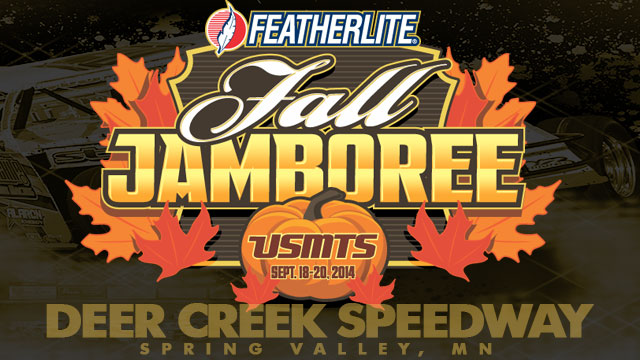 Order of Events: 16th Annual Featherlite Fall Jamboree
---
16th Annual Featherlite Fall Jamboree
United States Modified Touring Series (USMTS)
United States Racing Association (USRA)
Deer Creek Speedway, Spring Valley, Minn.
Thursday-Saturday, Sept. 18-20, 2014
WEDNESDAY, SEPTEMBER 17
12:00 noon – Pit Gate Opens
5:00 p.m. – Grandstand Gates Open
5:45 p.m. – Drivers Meeting Under Tent
6:00-9:00 p.m. – Open Practice on Track
9:30 p.m. – Texas Hold 'Em Tournament Under the Tent
THURSDAY, SEPTEMBER 18
8:00-11:00 a.m. – Bear Creek Lutheran Church Breakfast (Beer Garden)
3:00 p.m. – Pit Gate Opens
4:00 p.m. – Driver Sign-In Begins at USMTS Trailer
5:00 p.m. – Grandstand Gates Open
6:00 p.m. – Drivers Meeting Under Tent
6:25 p.m. – Opening Ceremonies
6:30 p.m. – Racing Begins
B-Mod Heat Races (8 laps, top ____ in passing points to A-Main)
Modified Heat Races (12 laps, top 15 in passing points to A-Main)
B-Mod B-Mains (12 laps, top ____ to A-Main)
Modified B-Mains (15 laps, top 3 to A-Main)
B-Mod A-Main (20 laps, $600 to win)
Modified A-Main (35 laps, $5,000 to win)
Karoake Under the Tent Following the Races
FRIDAY, SEPTEMBER 19
8:00-11:00 a.m. – Bear Creek Lutheran Church Breakfast (Beer Garden)
8:30-9:00 a.m. – Golf Scramble Sign Up at Root River Country Club
9:15 a.m. – Four-Person Best-Shot Golf Scramble Tees Off
3:00 p.m. – Pit Gate Opens
4:00 p.m. – Driver Sign-In Begins at USMTS Trailer
5:00 p.m. – Grandstand Gates Open
6:00 p.m. – Drivers Meeting Under Tent
6:25 p.m. – Opening Ceremonies
6:30 p.m. – Racing Begins
B-Mod Heat Races (8 laps, top ____ in passing points to A-Main)
Modified Heat Races (12 laps, top 15 in passing points to A-Main)
B-Mod B-Mains (12 laps, top ____ to A-Main)
Modified B-Mains (15 laps, top 3 to A-Main)
B-Mod A-Main (20 laps, $750 to win)
Modified A-Main (40 laps, $5,000 to win)
The Dweebs Perform LIVE Under the Tent Following the Races
SATURDAY, SEPTEMBER 20
8:00-11:00 a.m. – Bear Creek Lutheran Church Breakfast (Beer Garden)
11:30 a.m. – Sign Up for Bean Bag Tournament by Campground
12:00 noon – Bean Bag Tournament Begins
2:00 p.m. – Pit Gate Opens
3:00 p.m. – Driver Sign-In Begins at USMTS Trailer
4:00 p.m. – Grandstand Gates Open
5:30 p.m. – Drivers Meeting Under Tent
5:55 p.m. – Opening Ceremonies
6:00 p.m. – Racing Begins
B-Mod Heat Races (8 laps, top ____ in passing points to A-Main)
Modified Heat Races (12 laps, top 15 in passing points to A-Main)
B-Mod B-Mains (12 laps, top ____ to A-Main)
Modified B-Mains (15 laps, top 3 to A-Main)
B-Mod A-Main (20 laps, $750 to win)
Modified Non-Qualifiers Race (25 laps, $2,000 to win)
Modified A-Main (50 laps, $10,000 to win)
Track prep will be done as needed. Order of events subject to change depending on number of competitors, weather, etc.
Fan may purchase tickets online at www.deercreekspeedway.com or by calling toll-free 877-DCS-RACE. Drivers can enter by calling the USMTS office at 515-832-7944 or download the official Featherlite Fall Jamboree entry form at www.usmts.com/downloads.
For fans unable to attend the 16th Annual Featherlite Fall Jamboree in person, the entire event from the first lap of the first heat until the last checkered flag waves will be broadcast live via pay-per-view by RacinDirt.com. Visit www.racindirt.com for ordering information, or check them out on Facebook at www.facebook.com/racindirt.
The Deer Creek Speedway is a high-banked 3/8-mile clay oval which sits on 60 acres with one of America's most popular state-of-the-art racing complexes and an adjoining campground. For track or campground info, call 507-346-2342 or email info@deercreekspeedway.com.
To learn more about the United States Modified Touring Series, visit www.usmts.com online or call 515-832-7944. You can also like us on Facebook at www.facebook.com/usmts, follow us on Twitter at www.twitter.com/usmts or check out our YouTube channel at www.youtube.com/usmtstv.
= = = = = = = = = = = = = = =
USMTS OFFICIAL SPONSORS: American Racer Racing Tires, AMP Energy, Casey's General Stores, Chix Gear, COMP Cams, Day Motor Sports, Farm Boy BBQ Sauce, Intercomp, KEVKO Oil Pans & Components, MSD, Nitroquest Media Group, RACEceiver, RacinDirt.com, Snickers, SpiderWeb Modular Storage Solutions, Swan Energy, VP Racing Fuels.
USMTS PARTICIPATING SPONSORS: Arizona Sport Shirts, ASi Racewear, BRODIX Cylinder Heads, Double H Bands, ElbowsUp.com, Erson Cams, Integra Racing Shocks & Springs, Major League Bowhunter, Mesilla Valley Transportation, New Vision Graphics, Olympic Fire Protection, Penn Transport, Road Runner Crane, Road Runner Trucking, S&S Fishing & Rental, United Cellular Services.
USMTS CONTINGENCY SPONSORS: AFCO Racing Products, Bell Racing Helmets, Beyea Custom Headers, Brass Monkey Racing Products, C&R Racing, CPD Racing Tools, Edelbrock, Fast Shafts, FK Rod Ends, Forty9 Designs, Fuel Safe, Genesis Racing Shocks, GRT Race Cars, Hooker Harness, JRi Shocks, Keyser Manufacturing, KSE Racing Products, Marsh Racing Wheels, PBM Performance Products, Power Lift Racing Products, Quarter Master, Real Racing Wheels, Sybesma Graphics, Tiger Rear Ends.