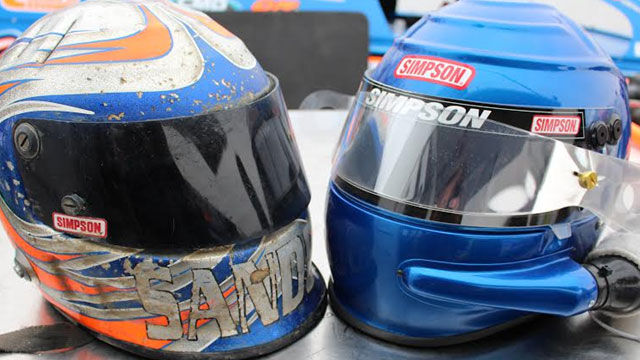 Krohn vs. Sanders Hope and Healing Challenge down to the wire
The 2014 edition of the Hope and Healing Karsyn's Krusaders Project is officially underway and will run throughout the 2014 racing season, set to wrap up at the USMTS Fall Jamboree at Deer Creek Speedway in Spring Valley, Minn.
This challenge puts Happy, Texas, driver Rodney Sanders vs. Slayton, Minn., pilot Jason Krohn, and both have already agreed the loser will serve his punishment at the Jamboree. However, Jason Krohn says, "Why should we let the crew get off so easy? This needs to be a team deal."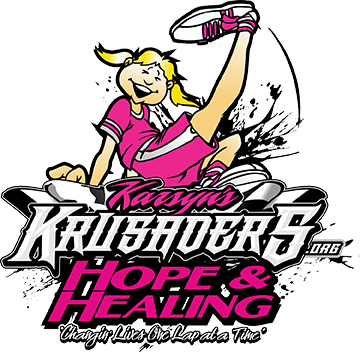 So the challenge is clear, the loser of the two former USMTS national champions will be forced to take a trip or two around the track on a special scooter. Of course, specific riding attire will be required, and will be provided to the loser by the driver raising the most money. The punishment does not end there though, the losing crew will showcase their musical talent by singing their rendition of Born to Be Wild for fans as the driver makes his way around the track.
The soft spoken and reserved Sanders said, "Everyone knows I am not very comfortable in front of a large crowd, but I am happy to be a part of this challenge, as it is for a great cause. It is probably safe to say that I know more about finding my way around a track than handling a microphone, ha-ha. We will just have to wait and see who wins."
Krohn, meanwhile, said, "This is the one time I guarantee that I will beat Rodney. Losing this challenge with so many kids and their families to help is not an option."
Sanders and Krohn have already agreed to donate a percentage of all of their merchandise sales to the challenge, but it will really be up to the fans and sponsors to make a donation or come up with ways to raise money for their favorite driver. The challenge will be broadcast live on www.RacinDirt.com so fans that are not able to attend the Jamboree, but wish to donate to the cause and see who wins the challenge, can do so on the live pay-per-view broadcast.
Jessica Miller from Karsyn's Krusaders said, "Our goal is to get this message out to the racing community all across the nation, so that we can generate as much awareness as possible and raise funds to support this project that will directly impact a minimum of 420 families from around the world."
These drivers are excited to not only challenge each other, but also encourage and give fans a reason to step up and make a difference for sick children that are truly risking it all. Both drivers are pushing their comfort levels to win this challenge due to the importance of the cause, and what its purpose means to them. Zach Gossett, a friend of both drivers, lost his sister to cancer. His family knows first-hand the struggles cancer families endure, as well as the magic and hope that a special place called Give Kids The World creates for sick children and their families.
The goal of the challenge is to raise at least $30,000 to renovate a Villa at Give Kids The World, a 70-acre resort with over 144 Villa accommodations, entertainment attractions, whimsical venues and fun specifically designed to fulfill the wishes of sick children. Since 1986, over 127,000 children diagnosed with a life-threatening illness and over a half million guests from across the country have experienced a memorable, joyful and cost-free visit.
The Villas are a major part of the GKTW experience. The Villa Karsyn's Krusaders plans to renovate with the funds generated houses 60 families each year.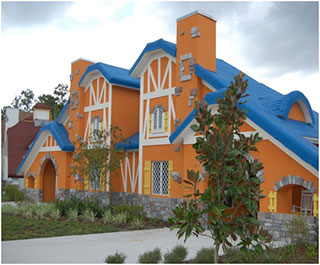 Multiply that times seven years, which is the average cycle of a renovation, and KK's donation is making a direct impact on 420 families.
The renovation includes all hard goods – furniture, lamps, beds, etc. Along with that, all tile, carpet and appliances are replaced, including washer and dryer (if needed). In addition, all rooms are repainted, walls repaired and any other missing or damaged parts (i.e. faucets, light fixture, etc.).
Fans can make their tax deductible donation online, in support of their favorite driver by visiting the "KK Gear" page and choosing "Sanders Challenge" or "Krohn Challenge" on our website at www.karsynskrusaders.org. Of course, fans can also make a donation by visiting the Karsyn's Krusaders booth or either the Krohn or Sanders haulers as they make their way to your track.
Supporters can also mail checks payable to: Karsyn's Krusaders, PO Box 2851, Waterloo, IA 50704. Be sure to indicate which driver you are donating to in the subject line. Questions can be directed to (319) 239-4737 or karsynskrusaders@gmail.com.