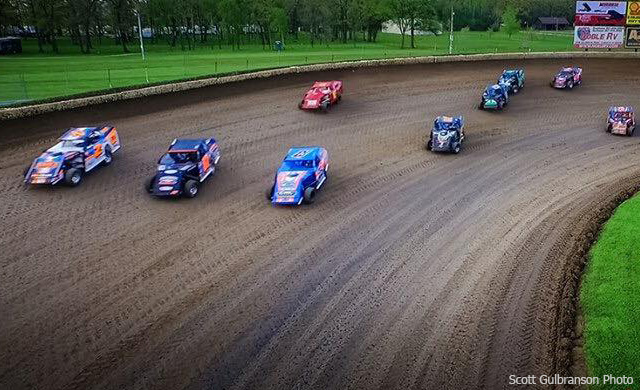 $20,000 now top prize at World Modified Dirt Track Championship presented by Red Tail Tackle
SPRING VALLEY, Minn.—Well that didn't take long.
Shortly after officials announced details about the format for this year's 5th Annual World Modified Dirt Track Championship presented by Red Tail Tackle on Monday, the event's presenting sponsor was on the phone to chip in even more.
Randy Eastvold, owner of Red Tail Tackle and a long-time friend and supporter of the Deer Creek Speedway, has increased the winner's take by $5,000 for the championship main event and making it a possible $20,000 to win.
"Randy and his wife, Patty, are just incredible people and more than just financial backers," said
USMTS President Todd Staley. "They've supported our series and the Queensland family at Deer Creek for so long and in so many ways that you simply couldn't thank them enough. We are very lucky to have people like this in our corner."
Set for Thursday, Friday and Saturday, July 23-25, the Best of the Best dirt modified drivers on the planet will converge on 'The Creek' for what has become the single-most super-mega-event in dirt modified racing.
The event at the iconic high-banked 3/8-mile clay oval in Spring Valley, Minn., has solidified itself as the "who's who" marquee shoot-out for open-wheel dirt modified racing, and this year's event will offer a new twist for competitors and fans alike.
Race fans will witness a complete program of qualifying and main events for the USMTS Modifieds each day, with Saturday's show featuring an "alphabet soup" of main events as drivers try to claw their way into the big dance.
Drivers will qualify on Thursday and Friday through time trials in groups of five cars with a green-white-checkered format. The top 6 qualifiers from each group of 12 will be inverted for that group's heat race. Heat races will take the top 12 in passing points to that night's "A" Main with the remainder going to one of that night's "B" Mains.
Points will be awarded for time trials, heat races, "B" Mains and the "A" Main each night on Thursday and Friday, and each driver's total combined points for the first two days will determine the main event line-ups on Saturday.
The highest overall points earner during the first two days will earn the pole for Saturday's "A" Main and so on for the top 12 points-earners, with 14 additional drivers qualifying through Saturday's "B" Main to create a 26-car starting grid.
Saturday will feature an "alphabet soup" of main events and last-chance races with the 13th-highest points-earner from the first two days on the pole of the "B" Main and the lowest points earner starting last in the lowest feature race.
But unlike the last four years, Saturday's main event will have a new twist this year.
Saturday's WMDTC Championship "A" Main will be divided into two segments. The first segment will be 25 laps and pay a minimum of $5,000 to win and $500 to start. After the first segment, competitors will have a maximum of ten minutes to make any needed changes to the racecar.
The second segment will be 40 laps, start heads-up by the finishing order of the first segment and pay a minimum of $15,000 to win and $1,000 to start.
The purse for the main event alone is more than most entire events in the sport. The following pay-outs are posted for this year's WMDTC:
"A" Main (First Segment, 25 laps): 1. $5,000, 2. $2,500, 3. $1,650, 4. $1,320, 5. $1,050, 6. $890, 7. $725, 8. $625, 9. $610, 10. $595, 11. $585, 12. $575, 13. $570, 14. $560, 15. $555, 16. $545, 17. $535, 18. $525, 19. $520, 20. $515, 21. $510, 22. $505, 23. $500, 24. $500, 25. $500, 26. $500.
"A" Main (Second Segment, 40 laps): 1. $15,000, 2. $5,500, 3. $3,350, 4. $2,680, 5. $2,150, 6. $1,810, 7. $1,475, 8. $1,275, 9. $1,240, 10. $1,205, 11. $1,190, 12. $1,175, 13. $1,155, 14. $1,140, 15. $1,120, 16. $1,105, 17. $1,090, 18. $1,075, 19. $1,055, 20. $1,035, 21. $1,030, 22. $1,025, 23. $1,020, 24. $1,010, 25. $1,000, 26. $1,000.
"B" Main (20 laps): 1st-14th transfer, 15th-24th $700.
"C" Main (20 laps): 1st-12th transfer, 13th-24th $500.
"Last Chance" Races (20 laps each): 1st-6th transfer, 7th-24th $350.
Non-Qualifier Races (20 laps each): 1st-6th transfer, all others $200.
Two-time defending USMTS National Champion is also the defending champion of the World Modified Dirt Track Championship presented by Red Tail Tackle. Jason Hughes conquered the 2014 event while Ryan Gustin blistered the field in 2012. The inaugural event in 2011 went to Brad Waits.
In addition to the USMTS Modifieds, USRA Stock Cars and WISSOTA Midwest Mods will also share the spotlight with a complete program of heat races and main events each day.
USRA Stock Cars will battle for $500 to win Thursday, $600 to win Friday and $750 to win Saturday. WISSOTA Midwest Mods will be racing for $400 to win Thursday, $500 to win Friday and $600 to win Saturday.
There will be an open practice for all drivers on Wednesday from 6-9 p.m. Pit passes are $20 and admission to the grandstands is free.
Racing starts at 6:30 p.m. Thursday and Friday, and Saturday's show gets the party started at 6 p.m.
Thursday and Friday reserved seats are $25 and general admission tickets are $20 each day. On Saturday, reserved seats are $30 and general admission is $25. A three-day reserved seat is $70.
Kids get in for $10 each day. Pit passes are $40 each day or $110 for a three-day pit pass. Tickets are available for advance purchase at www.deercreekspeedway.com.
For race fans unable to attend the event, every lap of every race all three nights will be broadcast via pay-per-view by RacinDirt. Visit www.racindirt.com today to order your three-day package and save.
The Deer Creek Speedway sits on 60 acres of scenic rural rolling hills with one of America's most popular state-of-the-art racing complexes and a busy modern campground. The 3/8-mile high-banked clay oval is located 11.3 miles south of I-90 (exit 209) on US 63 (0.7 mile north of SR 16) in Spring Valley, Minn. For more info, call toll-free 877-327-7223 or 507-346-2342 on race day or visit www.deercreekspeedway.com online.
For USMTS drivers, entry forms are available on the USMTS website at www.usmts.com/WMDTC-2015.pdf.
To learn more about the United States Modified Touring Series, visit www.usmts.com online or call 515-832-7944. You can also like us on Facebook at www.facebook.com/usmts, follow us on Twitter at www.twitter.com/usmts or subscribe to our YouTube channel at www.youtube.com/usmtstv.
= = = = = = = = = = = = = = =
USMTS OFFICIAL SPONSORS: American Racer Racing Tires, Casey's General Stores, Chix Gear Racewear, COMP Cams, Day Motor Sports, Deatherage Opticians, Farm Boy BBQ Sauce, Fast Shafts, Intercomp, KEVKO Oil Pans & Components, Malvern Trust & Savings Bank, MSD, Nitroquest Media Group, RACEceiver, RacinDirt.com, S&S Fishing & Rental, VP Racing Fuels.
USMTS PARTICIPATING SPONSORS: Arizona Sport Shirts, ASi Racewear, BRODIX Cylinder Heads, Double H Bands, Duvall Electric, ElbowsUp.com, Integra Racing Shocks & Springs, Mesilla Valley Transportation, Olympic Fire Protection, Rivers Edge Scrap Management, Schwab's Tinker Shop, UMotors Motorsports & Marine, Velocita-USA.
USMTS CONTINGENCY SPONSORS: AERO Race Wheels, AFCO Racing Products, Allstar Performance, Bell Racing Helmets, Beyea Custom Headers, BSB Manufacturing, CPD Racing Tools, Crane Cams, Driven Racing Oil, Edelbrock, Eibach Springs, FK Rod Ends, Forty9 Designs, Fuel Safe, Genesis Racing Shocks, GRT Race Cars, Holley Performance, Hooker Custom Harness, JRi Shocks, Keyser Manufacturing, KSE Racing Products, Marsh Racing Wheels, Midwest Sheet Metal, PBM Performance Products, QA1 Precision Products, Quarter Master, R2C Performance, Real Racing Wheels, Simpson Performance Products, Sybesma Graphics, Tilton Engineering, Wehrs Machine & Racing Products, Wilwood Disc Brakes.