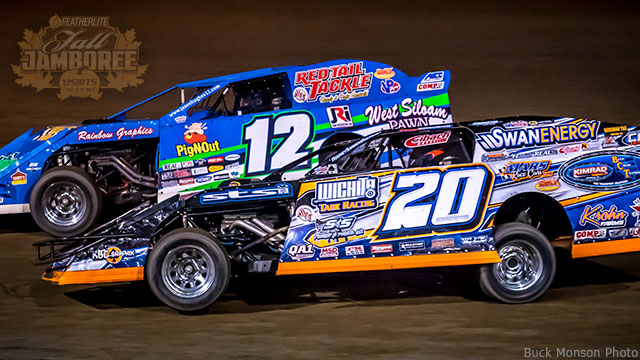 Featherlite Fall Jamboree entry list reveals Best of the Best headed to Deer Creek Speedway Sept. 24-26
SPRING VALLEY, Minn.—The countdown to America's undisputed marquee mega-event for dirt modifieds is on, and this year's pre-entry list looks like a future wing of the Dirt Modified Hall of Fame complex.
The following drivers have pre-entered for this year's clash, showing car number, driver's name, hometown and primary sponsor/chassis/engine:
1. 0 Les Duellman, Winona, Minn., Miller Ingenuity/DirtDueler/Grove.
2. 00 Mark Gartner, Mapleton, Minn., Boening Bros. Construction/TBA/TBA.
3. 02 Jacob Dahle, Morristown, Minn., Dahle Enterprises/Hughes/Sput's.
4. 07 Cory Crapser, Chippewa Falls, Wis., Sour Patch Kids/GRT/Tim's.
5. 10 Austin Arneson, Fargo, N.D., La Quinta Inn & Suites/GRT/Durham.
6. 11 Ryan Peckham, Spirit Lake, Iowa, POET Biorefining/IROC/Cline.
7. 12 Tommy Weder Jr., Woodward, Okla., Pig-N-Out/Hughes/Mullins.
8. 12 Jason Hughes, Watts, Okla., Red Tail Tackle/Hughes/Mullins. ##
9. 15 Chris Loberg, Menomonie, Wis., Harmston Trucking/Skyrocket/Sput's.
10. 16 Austin Siebert, Grandview, Mo., Kenny's Tile/GRT/Mullins.
11. 17 Lucas Conley, Spring Hill, Kan., Organic Warehouse/Cheata/Heeter.
12. 18 Mick Glenn, Minnesota City, Minn., Mick Glenn Racing/Pierce/JR.
13. 186 Jeremy Payne, Springfield, Mo., Randy Davidson Trucking/GRT/Durham.
14. 19 Dustin Sorensen, Rochester, Minn., Summit Custom Homes/GRT/Action.
15. 1a Dwaine Hanson, Lakefield, Minn., Raveling Crane Rentals/Hughes/KSE.
16. 1g Pat Graham, Ames, Iowa, Casey's General Stores/Skyrocket/Karl.
17. 2 Casey Arneson, Fargo, Minn., La Quinta Inn & Suites/GRT/Durham.
18. 2 Grant Junghans, Manhattan, Kan., Shop Quik Convenience Stores/MBCustom/Sput's.
19. 20 Rodney Sanders, Happy, Texas, Swan Energy/MBCustom/Geddes. ##
20. 20m Mark Motl, Owatonna, Minn., Four Seasons Electric/GRT/Sput's.
21. 21b Brandon Jensen, Hammond, Wis., Dave's Auto Service/SSR/Scott's.
22. 22b Rick Beebe, Shawnee, Kan., Trucks Unlimited/GRT/Ruble.
23. 23k Ben Kates, Tonganoxie, Kan., River's Edge Scrap Management/GRT/Mullins.
24. 23k Darwin Karau, Kasson, Minn., Broadway Car Care/Killer/Flyin'J.
25. 24 Brad Waits, Rochester, Minn., NFG Fleet Graphics/MBCustom/Baier's.
26. 26g Bob Gierke, Westport, Minn., Gierke Farms/GRT/Tim's.
27. 27 Don Gerritsen Jr., Rock Rapids, Iowa, Rock Rapids Repair/Razor/HarryHeads.
28. 28 Bill Clemens, Chatfield, Minn., NAPA/GRT/Clemens.
29. 29h Joe Horgdal, Kasson, Minn., Broadway Car Care/GRT/Action.
30. 2g Kenny Gaddis, Hallsville, Texas, Big Texas Auto Parts/MBCustom/PTS.
31. 2r Rickie Roche, International Falls, Minn., Advanced Chiropractic/Harris/Sput's.
32. 2x Brady Gerdes, Villard, Minn., Extreme Auto Glass/SSR/Sput's.
33. 3 Kelly Shryock, Fertile, Iowa, Shryock Racing Components/Skyrocket/ASi. ##
34. 30 Josh Ruby, Lakota, Iowa, Arnevik Farms/Skyrocket/KSE.
35. 31 Corey Dripps, Waterloo, Iowa, Paulson Rock Products/Rage/Durham.
36. 33z Zack VanderBeek, New Sharon, Iowa, Casey's General Stores/LG2/Sput's.
37. 38 Rick Cannata, Hibbing, Minn., TriTec/Shaw/Miller.
38. 4 Cody Bauman, Eureka, Ill., Champion Spark Plugs/GRT/Gade.
39. 4 Billy Vogel, West Fargo, N.D., Shotgun Sally's/LG2/Durham.
40. 40 David Schuster, Waterville, Minn., One Little Shirt Shop/GRT/AEM.
41. 44 Damon Haslip, Waseca, Minn., Powder Werks/GRT/KSE.
42. 49 Bob Timm, Winona, Minn., Rivercity Manufacturing/LG2/BuckBuilt.
43. 49jr Jake Timm, Winona, Minn., Oak Ridge Fabrication/LG2/BuckBuilt.
44. 4a Joel Alberts, Mantorville, Minn., A&A Electric & Underground/GRT/Action.
45. 4m Bobby Malchus, Red Oak, Texas, Southwest General Contracting/Rocket/LRE.
46. 4r Dereck Ramirez, Woodward, Okla., Power Rig/LG2/Cornett.
47. 5 Brandon Beckendorf, Danube, Minn., Palmer Farms/Skyrocket/Sput's.
48. 50iii Brandon Davis, Medford, Minn., Farm Boy BBQ Sauce/MBCustom/KSE.
49. 51 Tim Thomas, West Fargo, N.M., L2 Contracting/Venom/G-Force.
50. 51 Chris Oertel, Marshfield, Wis., Pankratz Farms/GRT/Tomcat.
51. 55 Jeff Wood, Chisholm, Minn., Guye's Plumbing/Shaw/Sput's.
52. 555 Ryan Ruter, Kanawha, Iowa, Ruter Racing/Sidebiter/Sput's.
53. 56h Brandon Hare, Elma, Iowa, Schlee Farms/Skyrocket/Sput's.
54. 59 Bob Sammann, Winona, Minn., Tullos Collision/LG2/KSE.
55. 6 Brock Bauman, Eureka, Ill., Champion Spark Plugs/GRT/Gade.
56. 60 Dan Ebert, Lake Shore, Minn., Arctic Cat/Impressive/Speedwerx.
57. 65 Tommy Myer, Blooming Prairie, Minn., Paulson Rock Products/Ramirez/Sput's.
58. 6m Ted Marrs, Bethel, Minn., Hotsy Pressure Washers/Frederick/Sput's.
59. 6T7 Brian Albrecht, Winona, Minn., Hornberg Rock Products/Skyrocket/Sput's.
60. 71 Jason Cummins, New Richland, Minn., Merkel Trucking/Sidebiter/Sput's.
61. 71 Dave Elson, Springfield, Mo., Unique Metal Turning/Shaw/Keith.
62. 73b Shad Badder, Bates City, Mo., Prime Racing Products/Rage/Kuntz.
63. 75 Terry Phillips, Springfield, Mo., Andy's Frozen Custard/GRT/Hatfield. ##
64. 7k Jason Krohn, Slayton, Minn., Hope & Healing/MBCustom/Sput's.
65. 7x Jesse Glenz, Cadott, Wis., Close Up Apparel/MBCustom/Tim's.
66. 7x Rory Jordan, Victoria, Texas, Jordan/Aire AC & Heating/Shaw/Mullins.
67. 8 Steve Miller, Rosanky, Texas, Texas Express/Hughes/Extreme.
68. 8 Mark Hoover, Maryville, Mo., River Valley Ag/Sidebiter/Niers.
69. 86d Dagan Heim, Rosemount, Minn., Grain Handler/Shaw/Murgic.
70. 88d Matt Dotson, Hallsville, Mo., M.A.D. Logging/GRT/BMS.
71. 89 Eric Pember, Pittsville, Wis., White City Glass/MBCustom/Mullins.
72. 89x TBA, White City Glass/MBCustom/Mullins.
73. 91 Joe Duvall, Claremore, Okla., AMP Energy/MBCustom/Mullins.
74. 91 Scott Drake, Webb City, Okla., AMP Energy/MBCustom/Wornhor.
75. 91 Craig Thatcher, Knapp, Wis., Tri Star Engines/GRT/TriStar.
76. 91 Phil Braun, Danube, Minn., FedEx/GRT/Victory.
77. 95 Keith Foss, Winona, Minn., Equality Die Cast/Hughes/Grove.
78. 97 Cade Dillard, Robeline, La., Snickers/Hughes/Geddes.
79. 97.5 Greg Jensen, Albert Lea, Minn., Pulse FM/Skyrocket/KSE.
80. 97k Brian Johnson, Independence, Mo., Day Automotive/GRT/Melvin.
81. 98 Kevin Stoa, Albert Lea, Minn., Liquid Nitro/Harris/KSE.
82. 99 Josh Angst, Winona, Minn., Culver's/GRT/Sput's.
83. 99 Jesse Sobbing, Malvern, Iowa, Home Pride/MBCustom/Sput's.
84. 9e Don Eischens, Richmond, Minn., Kandi Water/SSR/Adams.
85. B29 Tammy Mitchell, Pea Ridge, Ark., Blonde Bomber Racing/Hoffman/BMS.
86. IOU1 Brent Larson, Lake Elmo, Minn., Olson Carriers/Shaw/Mullins.
87. V2 Joey Jensen, Harris, Minn., Little Giant/SSR/Tim's. ##
88. 22d Daniel Hilsabeck, Adel, Iowa, REW Materials/Hilsabeck/Mullins.
## = former Featherlite Fall Jamboree champion
The 17th Annual Featherlite Fall Jamboree blasts off Sept. 24, and this year's battle between the Best of the Best the sport has to offer promises to be the biggest ever with the boldest payoffs in event history.
Set for Thursday-Saturday, Sept. 24-26, fans will witness a complete program all three nights. On Thursday, the United States Modified Touring Series competes in the final points race of the year with the final round of the Hunt for the USMTS Casey's Cup powered by S&S Fishing & Rental and the crowning of the 2015 USMTS National Champion.
Drivers will be shooting for a $5,000 top prize each of the first two nights with a whopping $10,000 winner's share on Saturday night, plus the annual Non-Qualifiers Race which doles out $2,000 to the winner of the race.
Saturday's championship race will start a minimum of 30 cars three-wide while the Non-Qualifiers Race which also have 30 cars on the track.
The Holley Iron Man Series featuring USRA B-Mods will share the spotlight all three nights.
Friday and Saturday's shows will be sanctioned by the United States Racing Association with valuable USRA national points on the line for both USRA Modified and USRA B-Mod competitors.
If witnessing the "who's who" of dirt modified racing circling the high-banked Deer Creek Speedway clay oval at nearly 100 mph, this event right up your alley.
Ron Jones was the champion of the inaugural event in 1999. Since then, the list of Featherlite Fall Jamboree champions include Johnny Saathoff, Willy Kraft, Mark Noble, Dan Daniels, Kelly Shryock, Chad Kinder, Dean Mahlstedt, Tim Donlinger, Terry Phillips, Joey Jensen, Rodney Sanders and Jason Hughes.
Hughes is the only driver to win Saturday's finale more than once.
Sanders is the defending champion of the event and two-time defending USMTS National Champion. He will enter Thursday's race with hopes of a third title—one that would reward him with a $100,000 payday at the season-ending awards banquet.
But Hughes comes in atop the points, clinging to a four-point cushion over Sanders and a $20,000 payday to win the title. Whichever driver finishes ahead of the other on Thursday night will likely wear the coveted USMTS National Champion's crown for 2015.
Early bird race fans can get a free preview of the action and drivers will get their chance to make final adjustments to their machines with an open practice from 6-9 p.m. on Wednesday, Sept. 23.
There will be a complete show each night on Thursday, Friday and Saturday. The top 15 in heat race passing points are locked into "A" Main each night with the top 8 redrawing for the first eight starting positions. An additional 15 drivers will advance from the "B" Mains to the "A" Main. On Saturday, the top 30 finishers in the Modified "B" Mains not advancing to the "A" Main will compete in the Non-Qualifiers Race with a complete redraw for starting spots.
Fan may purchase tickets online at www.deercreekspeedway.com or by calling toll-free 877-DCS-RACE.
For fans unable to attend the 17th Annual Featherlite Fall Jamboree in person, the entire event from the first lap of the first heat until the last checkered flag waves will be broadcast live via pay-per-view by RacinDirt.com. Expect dozens of driver interviews, profiles, special features, instant replay and more. Visit www.racindirt.com for ordering information.
The Deer Creek Speedway is a high-banked 3/8-mile clay oval which sits on 60 acres with one of America's most popular state-of-the-art racing complexes and an adjoining campground. For track or campground info, call 507-346-2342 or email info@deercreekspeedway.com.
To learn more about the USRA, visit www.usraracing.com or call 515-832-6000. You can also like us on Facebook at www.facebook.com/usraracing, follow us at www.twitter.com/usraracing on Twitter and check out our YouTube channel at www.youtube.com/usratv.
To learn more about the United States Modified Touring Series, visit www.usmts.com online or call 515-832-7944. You can also like us on Facebook at www.facebook.com/usmts, follow us on Twitter at www.twitter.com/usmts or subscribe to our YouTube channel at www.youtube.com/usmtstv.
= = = = = = = = = = = = = = =
USMTS OFFICIAL SPONSORS: American Racer Racing Tires, Casey's General Stores, Chix Gear Racewear, COMP Cams, Day Motor Sports, Deatherage Opticians, Farm Boy BBQ Sauce, Fast Shafts, Intercomp, KEVKO Oil Pans & Components, Malvern Trust & Savings Bank, MSD, Nitroquest Media Group, RACEceiver, RacinDirt.com, S&S Fishing & Rental, VP Racing Fuels.
USMTS PARTICIPATING SPONSORS: Arizona Sport Shirts, ASi Racewear, BRODIX Cylinder Heads, Double H Bands, Duvall Electric, ElbowsUp.com, Integra Racing Shocks & Springs, Mesilla Valley Transportation, Olympic Fire Protection, Rivers Edge Scrap Management, Schwab's Tinker Shop, UMotors Motorsports & Marine.
USMTS CONTINGENCY SPONSORS: AERO Race Wheels, AFCO Racing Products, Allstar Performance, Bell Racing Helmets, Beyea Custom Headers, BSB Manufacturing, CPD Racing Tools, Crane Cams, Driven Racing Oil, Edelbrock, Eibach Springs, FK Rod Ends, Forty9 Designs, Fuel Safe, Genesis Racing Shocks, GRT Race Cars, Holley Performance, Hooker Custom Harness, JRi Shocks, Keyser Manufacturing, KSE Racing Products, Marsh Racing Wheels, Midwest Sheet Metal, PBM Performance Products, QA1 Precision Products, Quarter Master, R2C Performance, Real Racing Wheels, Simpson Performance Products, Sybesma Graphics, Tilton Engineering, Wehrs Machine & Racing Products, Wilwood Disc Brakes.