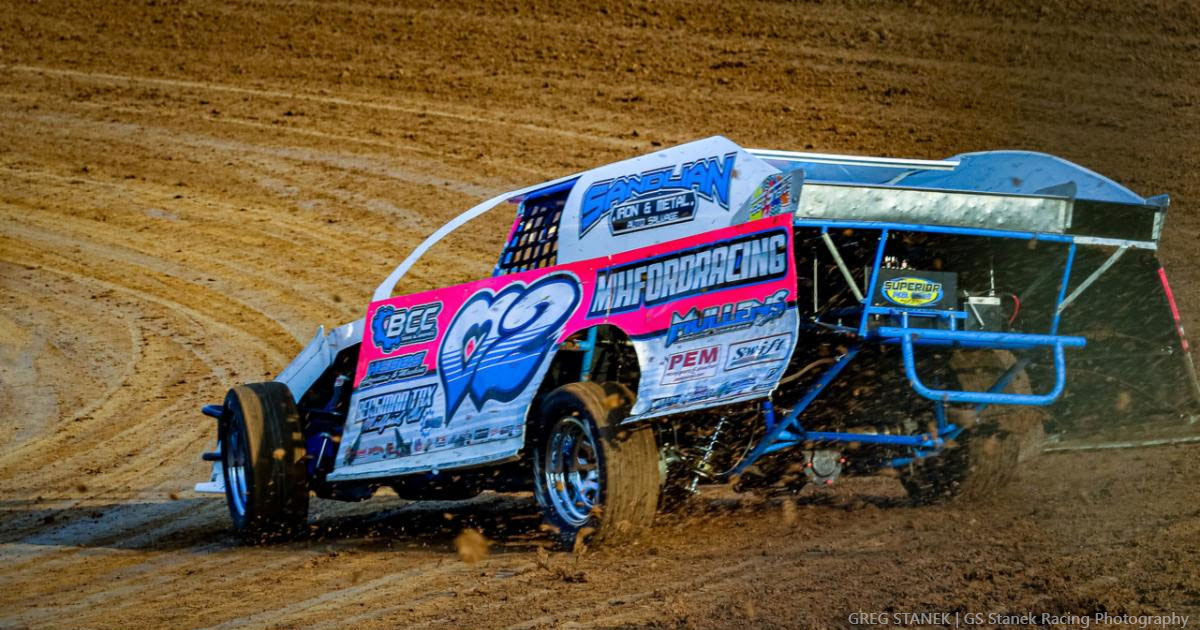 Mullens draws upon fond Lucas Oil Speedway memories for Saturday's USMTS Slick Mist Show-Me Shootout
---
Lucas Oil Speedway always will have a special place in Tanner Mullens' heart as the venue where he posted his first United States Modified Touring Series victory.
That came in June of 2020 in a special weeknight event.
The third-generation racer from Wichita, Kansas, surprised even himself with the breakthrough victory that helped propel him toward last year's Grant Junghans USMTS Rookie of the Year honors.
"That was the last place I thought I'd win my first one," Mullens said this week. "I always had struggled over there and to get my first series win there, it was pretty crazy. I'm excited to get back over there and try to win another one on Saturday."
Mullens, 28, gets that chance at Saturday's 12th annual USMTS Slick Mist Show-Me Shootout presented by Foley Equipment.
The $10,000-to-win event, which will conclude a three-race USMTS swing, should again find Mullens right in the mix at a track that he now embraces.
Last August at the Show-Me Shootout, Mullens backed up his June victory with a solid fifth-place run. He wound up the season 12th in points, despite not running all the tour races.
That was good enough for Rookie of the Year honors.
That set the stage for Mullens to commit to a full tour schedule in 2021 and he set a lofty goal of chasing the championship.
He's in the mix as the schedule heats back up after nearly a three-week break.
Mullens is fourth in points—87 behind tour leader Jake O'Neil. The three-race swing began Thursday at the 81 Speedway in Park City, Kansas, and continued Friday at the Humboldt Speedway in Humboldt, Kansas.
"It's been good," Mullens said of his first full USMTS season. "We've been fast. We need to start a little closer to the front each night. That would definitely help, but we're going forward every night. We're getting there."
Mullens has two victories, seven top-5 finishes and fifteen top-10s in 19 starts with the Summit USMTS National Championship fueled by Casey's.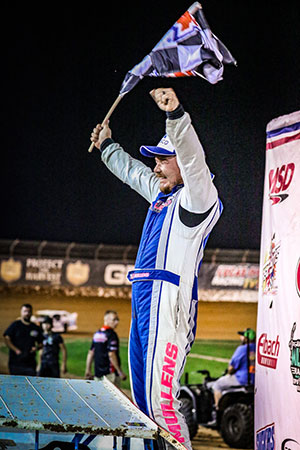 "Our main goal is to try and win a national championship," Mullens said. "We're fourth right now. I was pretty excited going in and running a full year. So far, so good I guess you could say."
Mullens said solid sponsorship and the help from full-time crew member Tanner Lamb have been keys—especially considering Mullens' day job at Mullens Motorsports where Tanner and his dad, Buddy Mullens, build and sell their own brand of chassis to clients.
"We're too busy, probably," Tanner Mullens joked of the business. "We work 9 to 5 building cars, then I probably work from 5 until midnight on my car. It's definitely like having two full-time jobs.
"We have nine or ten cars lined up again this winter to build and we did eight last winter. It's going as well as I thought it could, only being a couple of years old."
As for what it will take to make a charge at the championship in the closing months of the season, Mullens again hit on the key word: consistency.
"Jake, Rodney (Sanders) and Dereck (Ramirez) who are in front of us are gonna be hard to beat," Mullens said. "They're all really [good] drivers. We're just gonna have to be consistent and have some good finishes and a little bit of luck on our side."
Mullens' sponsors include Mel Hambelton Ford, Mullens Racing Chassis, Sandlian Iron & Metal, Bergman Tax, Knoche Farms, Integra Shocks, PEM Rear Ends and Swift Springs."
"I've just got a lot of good people helping me that make it where I can put my full attention towards it," he said. "Being able to run with USMTS, you either get better or else. My sponsors help me make it to where I can do it full time and that is the key to it."
Visit usmts.com for schedules, points, photos, souvenirs, videos and more. Follow our social media channels on Facebook, Instagram, Twitter and YouTube. Click here to get USMTS news delivered to your inbox.
USRA Stock Cars, B-Mods also in action: The Ozark Golf Cars USRA B-Mods and O'Reilly Auto Parts USRA Stock Cars also will be in action for a big night of racing.
There's extra money on the line for the O'Reilly Auto Parts USRA Stock Car division. An anonymous fan has given $950 cash for the driver winning the feature, in addition to the $500 regular first-place money to make it a $1,450 night for the Stock Cars winner.
Also, factoring in the $250 bonus money for any driver winning both Friday at Dallas County Speedway and Saturday at Lucas Oil Speedway - plus the regular prize money at Dallas County - the winning driver Saturday could pocket $2,100 in prize and bonus money for the two nights.
Frogs Jr Fan Club Pit Tour: Young fans arriving early are invited to sign up for the Frogs Jr Fan Club Pit Tour. Kids ages 5-12 can sign up on the midway, behind the main grandstands, before 5 p.m. with eight names drawn for a special pit-area tour at 5:15 with flagman Mike Striegel.
They will get to meet some of the drivers, see the cars up close and attend the drivers' meeting prior to returning to the midway. Each of the eight will receive a Frogs Jr Fan Club T-Shirt, checkered flag and a gift bag sponsored by RaceGear Unlimited to put items in they receive from the drivers.
Beat the heat in a suite: A limited number of VIP Suite tickets are available for Saturday night's program, on the third level overlooking the front straightaway, priced at $50 apiece. All VIP Suite seats must be pre-paid and can be reserved by calling Admissions Director Nichole McMillan at (417) 282-5984.
The suite offers prime viewing from inside, where the temperature is climate-controlled, or an outside seating area. Food and drinks are not included in the ticket price, though a host/hostess will be available to take food and drink orders throughout the evening.
Gates open at 4 p.m. with hot laps at 6:30 and racing at 7:05.
Admission:
Adults (16 and over) $25
Seniors (62 and over)/Military $22
Youth (ages 6-15) $10
Kids (5 and under) FREE
Family pass (2 adults and up to 3 children) $60
Pit pass $40
For ticket information for any event during the 2021 Lucas Oil Speedway season, contact McMillan at (417) 282-5984 or via email at nichole@lucasoilspeedway.com. Fans also can use the online ticketing system.