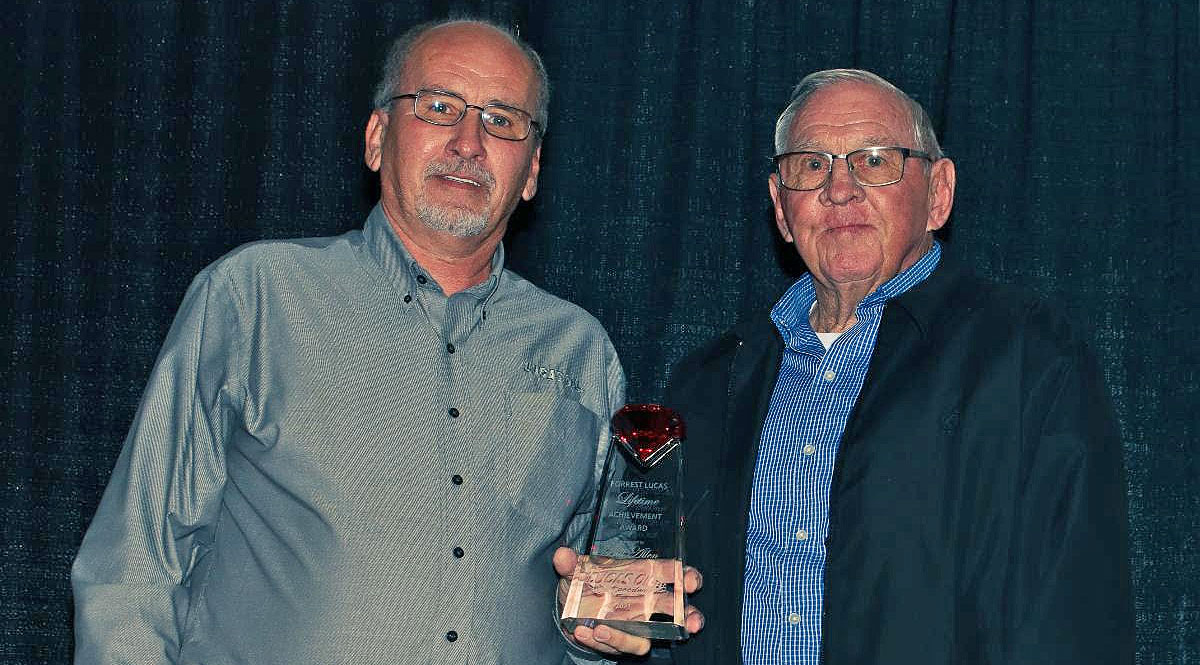 Bill Allen (right) receives the Forrest Lucas Lifetime Achievement Award from Lucas Oil Speedway General Manager Danny Lorton.
Bill Allen receives Forrest Lucas Lifetime Achievement Award
---
Lucas Oil Speedway paid tribute to its stars of the 2021 season plus one of the iconic figures in Ozarks racing history during its annual championship banquet and awards presentation on Saturday night at Margaritaville Lake Resort Lake of the Ozarks.
Bill Allen, who's spent more than 60 years in the sport, was named the fifth recipient of the Forrest Lucas Lifetime Achievement Award for contributions both on and off to the track.
Meanwhile, driver Dillon McCowan of Urbana not only was recognized for his championship in the Cedar Creek Beef Jerky USRA Modified division, the 17-year-old star won fan voting for Most Popular Driver along with having Best Appearing Race Car as determined by speedway personnel.
"It was a great way to conclude our season, recognizing all of those who not only won championships but finished in the top 10 of points," Lucas Oil Speedway General Manager Danny Lorton said. "Congratulations to all who made it another successful season at Lucas Oil Speedway."
McCowan edged O'Reilly Auto Parts USRA Stock Car driver Darren Phillips by one vote in Most Popular Driver voting to win that award for the first time. Ozark Golf Cars USRA B-Mod driver J.C. Morton was third.
Other division champions recognized were Lebanon's Kris Jackson, celebrating his sixth Ozark Golf Cars USRA B-Mod title and Waynesville's David Hendrix in the O'Reilly Auto Parts USRA Stock Cars.
The program concluded with the announcement of Allen as winner of the Forrest Lucas Lifetime Achievement Award. Allen, a Wheatland native, has done a little of everything on the racing scene as a driver, track owner and promoter while known as someone who always had a passion for the sport.
Allen's racing story began more than 60 years ago while he began racing a 1953 Ford with the No. 13 on its side at the old Humansville Speedway. Later, the baby blue No. 1 would become his signature.
The early racing run was brief as Allen enlisted at age 25 and went to fight for his country in the Vietnam war. He returned home to Wheatland after his service was complete and, after a nine-year break from racing, resumed a successful and winning career.
One of his best years came in 1972 when he won every race at Humansville. He loved racing at the Springfield Fairgrounds where he raced with other greats during the track's glory years of competition, including his friend Rex Merritt until about 1983.
Allen also competed at Lebanon and Bolivar and was a regular on both dirt and asphalt. He competed at the Bolivar Speedway for parts of four decades.
About 1996, he bought 20 acres in Urbana and told wife Patty he planned to build a race track. Dallas County Speedway opened in July of 1997 and has been a staple of the area racing scene ever since.
As a track owner and promoter, Allen helped introduce the Ozarks to B-Mod racing as an alternative to the higher-cost Modified division. Bill was honored by the Ozarks Area Racers Foundation Hall of Fame in 2009.
Bill's son, Scotty Allen, has had three words on every race car he's ever run - "God, Family, Racing" - saying those were the most important lessons he learned from his father.
Allen joins previous Forrest Lucas Lifetime Achievement Award winners Rex Merritt (2017), Jim Ruble (2018), Kevin Fletcher (2019) and Kent Smith (2020).
Lucas Oil Speedway recently announced its tentative 2022 schedule. The season fires up with an Open Test & Tune on April 16 and the season-opening 9th annual Lucas Oil MLRA Spring Nationals set for April 22-23.
For ticket information for any future event at Lucas Oil Speedway, contact admissions director Nichole McMillan at (417) 282-5984 or via email at nichole@lucasoilspeedway.com. Fans also can use the online ticketing system.