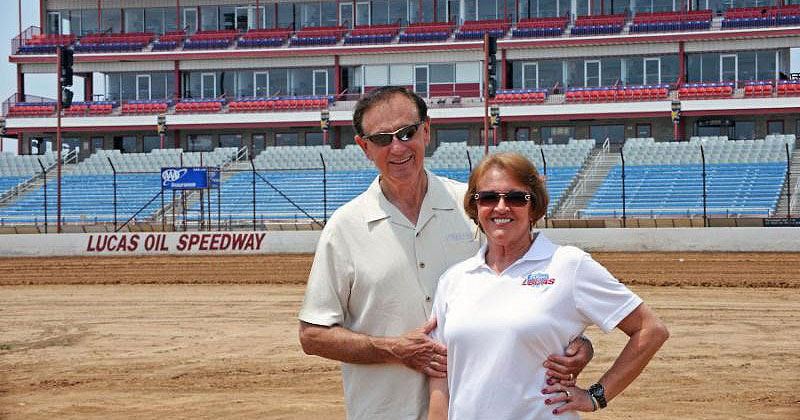 Forrest and Charlotte Lucas opened Lucas Oil Speedway in the summer of 2006. (Lucas Oil Speedway file photo)
Lucas Oil Speedway founder Forrest Lucas selected for Missouri Sports Hall of Fame
---
Forrest Lucas, founder of Lucas Oil and Lucas Oil Speedway, is part of a star-studded class set for enshrinement into the Missouri Sports Hall of Fame Class of 2022 which was unveiled on Thursday.
The new inductees will be honored in ceremonies on Sunday, Feb. 6 at the Ozark Empire Fairgrounds in Springfield. Among those joining Lucas in the Hall of Fame Class include former Kansas City Chiefs offensive lineman and Pro Football Hall of Famer Willie Roaf; former St. Louis Cardinals All-Star outfielder Matt Holliday and Miracle on Ice's Ken Morrow from the 1980 USA Olympic Gold Medal hockey team.
Lucas is a self-made businessman, philanthropist, and creator of Lucas Oil, which he founded with his wife, Charlotte, in 1989. Born in rural Indiana, he is recognized worldwide as a generous supporter of motorsports and the innovative pioneer of problem-solving oils and fuel treatments. Lucas' numerous contributions to the automotive industry and sports nationwide are traceable over decades.
He is a long-time ally of professional and amateur motorsports, sponsoring teams, speedways, and racing events at regional and national levels—even producing a line of high-performance racing oils. Lucas has made significant investments in sports across the Midwest and around the country, from the Lucas Oil Speedway, known as "The Diamond of the Dirt Tracks" in Wheatland, Mo., to high profile sponsorships like Lucas Oil Stadium, home of the Indianapolis Colts.
The Lucas Oil brand also sponsors numerous motorsports series, including the Lucas Oil Late Model Dirt Series, Lucas Oil MLRA and Lucas Oil Pro Pulling League. It also carries exclusive motorsports content into households through its television network MAVTV and the streaming service MAVTV+, elevating viewership and celebrating the love of sports.
Missouri Sports Hall of Fame CEO & Executive Director Jerald Andrews said Missouri Governor Mike Parson—a Wheatland native and close friend of Forrest Lucas—was instrumental in making the contact.
"Mr. Lucas' office has even asked what kind of memorabilia would you like for the Hall of Fame from Lucas Oil Motorsports, so we're excited about what that might mean for the museum as well," Andrews said. "It appears that (Lucas Oil Speedway) continues to grow and expand and develop even more. That's exciting for our state."
The complete Missouri Sports Hall of Fame class of 2022:
• Forrest Lucas, founder of Lucas Oil, the namesake for Lucas Oil Speedway and Lucas Oil Stadium
• Willie Roaf, Kansas City Chiefs
• Matt Holliday, St. Louis Cardinals
• Ken Morrow, 1980 USA Hockey gold medalist and four-time Stanley Cup champion
• Rich Gould, Branson native and longest-serving TV sports director in St. Louis history
• Julie Dorn, University of Missouri All-American gymnast
• Jay Osborne, longtime Nixa High School boys basketball coach
• Tim Poe, coach of University of Central Missouri men's golf program
• Steve Hesser, former Glendale High School and Drury University basketball coach
• Jon Leamy, recently retired coach of Missouri State University men's soccer
• Mike Swanson, Kansas City Royals Communications Executive
• Don Peterson, 55-year scuba diving coach based in Springfield
• Randy Magers, Missouri State University baseball and basketball standout
• Larry Whiteley, Conservationist and outdoor Journalist
• 1984-1991 West Plains High School volleyball era
• Rick Byers, former football coach of St. Pius X High School
• 1998-2002 St. Pius X High School football era
• Grain Valley High School cheerleading program
• Helias Catholic High School boys golf program
• Bryan Properties – John Q. Hammons Founder's Award
• Bonnie Keller – Ace Award
• Craig Curry – President's Award
Individual tickets for the Hall of Fame dinner and ceremony are $150. A sponsorship table of 10 is $1,500. Numerous other sponsorships are available, including associate sponsorships, congratulatory ads, a 20-month calendar and baseball card trading set.
Call the Missouri Sports Hall of Fame at (417) 889-3100 to purchase tickets or to inquire about sponsorship information. The Hall of Fame is located at 3861 East Stan Musial Dr. in Springfield, at the entrance to Highland Springs Country Club.
The Missouri Sports Hall of Fame opened in 1994 thanks to Springfield businessman John Q. Hammons. Inside, it has over 4,000 items of sports memorabilia and exhibits. The two-story, 32,000 square foot building also features a number of interactive exhibits and outside the front entrance is the 7,600-pound, all-granite monument dedicated to the Hall of greats honored by the Ozarks Area Racers Foundation.
The Summit USMTS National Championship fueled by Casey's returns to the "Diamond of Dirt Tracks" for the 13th Annual Slick Mist Show-Me Shootout presented by Foley Equipment on Saturday, Aug. 6, with Medieval USRA Stock Cars and USRA B-Mods also on the card.
For ticket information for any future event at Lucas Oil Speedway, contact admissions director nichole McMillan at (417) 282-5984 or via email at nichole@lucasoilspeedway.com. Fans also can use the online ticketing system.