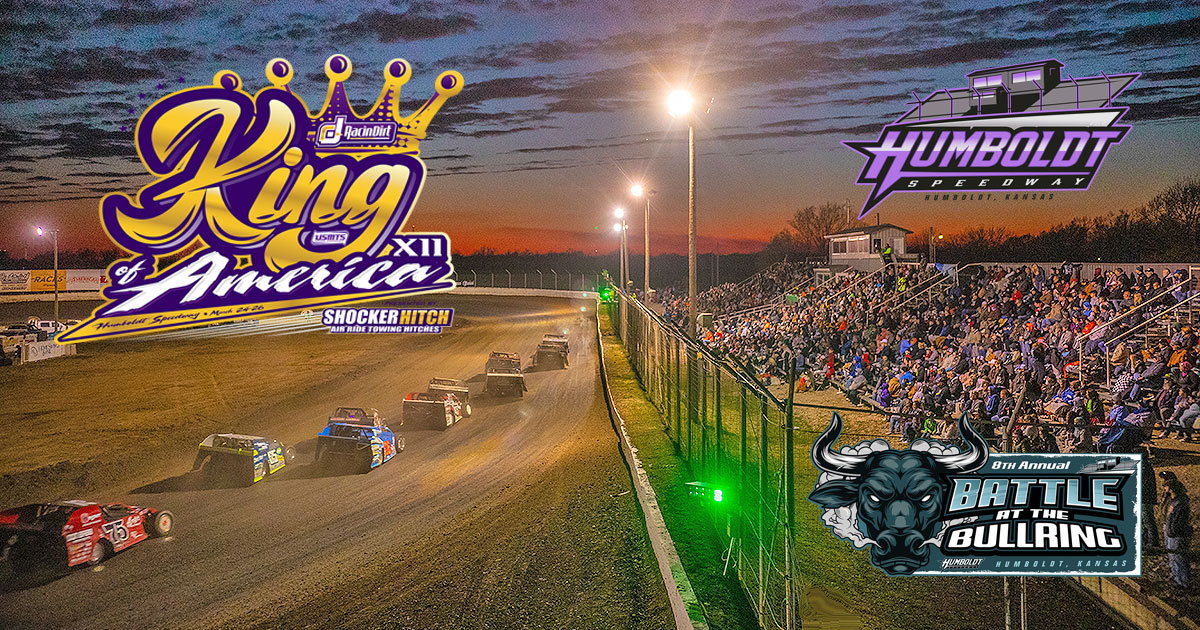 FAST FACTS: King of America XII and B-Mod Battle at The Bullring
RacinDirt King of America XII presented by Shocker Hitch
8th Annual RacinDirt Battle at The Bullring
Wednesday-Saturday, March 22-25, 2023
WEDNESDAY, MARCH 22
Open Practice
Pits Open 12 p.m.
Drivers Meeting 4:30 p.m.
Hot Laps 5-8 p.m.
Grandstands FREE
Adult Pit Pass $25
Kids (6-10) Pit Pass $15
4-Day Adult Pit Pass $145
THURSDAY, MARCH 23
Summit Racing Equipment Preliminary Night #1
Pits Open 2 p.m.
Grandstands Open 5 p.m.
Drivers Meeting 5:30 p.m.
Racing 6 p.m.
General Admission:
Adults $25
Military & Seniors $20
Youth (11-16) $10
Kids (6-10) $5
5 & Under FREE
Adult Pit Pass $40
Kids (6-10) Pit Pass $20
3-Day Adult Pit Pass $120
FRIDAY, MARCH 24
Summit Racing Equipment Preliminary Night #2
RAINED OUT
Trevor Holeman Band will be playing in The Party Barn after the races
SATURDAY, MARCH 25
Shocker Hitch Championship Night
Pits Open 1 p.m.
Grandstands Open 4 p.m.
Drivers Meeting 4:30 p.m.
Racing 5 p.m.
General Admission:
Adults $30
Military & Seniors $25
Youth (11-16) $10
Kids (6-10) $5
5 & Under FREE
Adult Pit Pass $45
Kids (6-10) Pit Pass $20
USMTS MODIFIEDS
Thursday A-Main: Licensed – 1. $3000. 2. $1700. 3. $1200. 4. $900. 5. $800. 6. $700. 7. $600. 8. $550. 9. $500. 10. $450. 11. $425. 12. $400. 13. $375. 14. $350. 15. $340. 16. $335. 17. $330. 18. $325. 19. $320. 20. $315. 21. $310. 22. $305, other starters $300, non-qualifiers $100; Non-Licensed – 1. $3000. 2. $1500. 3. $1000. 4. $700. 5. $600. 6. $500. 7. $450. 8. $400. 9. $350. 10. $325. 11. $300. 12. $275, other starters $250, non-qualifiers $90. (Early Entry $100)
Saturday A-Main: Licensed – 1. $12,000. 2. $7000. 3. $5000. 4. $3000. 5. $2000. 6. $1700. 7. $1500. 8. $1200. 9. $1100. 10. $1000. 11. $950. 12. $900. 13. $875. 14. $850. 15. $840. 16. $835. 17. $830. 18. $825. 19. $820. 20. $815. 21. $810. 22. $805, other starters $800, non-qualifiers $150; Non-Licensed – 1. $12,000. 2. $5000. 3. $4000. 4. $2500. 5. $1500. 6. $1200. 7. $1000. 8. $900. 9. $850. 10. $800. 11. $775. 12. $750. 13. $740. 14. $730. 15. $720. 16. $715. 17. $710. 18. $705, other starters $700, non-qualifiers $120. (Early Entry $200)
Entry fees will increase on race day. USMTS rules will be enforced all three nights for the Modifieds (see usmts.com/downloads).
There is no requirement that a driver purchase a USMTS license but benefits include $100,000 excess medical coverage, higher event purses and tow money, eligibility for points funds, increased media recognition, a personalized driver profile on the USMTS website and more. The cost of a USMTS national license is $500 per year and applies to all USMTS events. Alternatively, a one-time multi-race license good for two to four consecutive events in a single weekend may be purchased for $100. A one-night license is $50. A driver must possess a USMTS license prior to the start of an event to be eligible for points funds, provisional starting spots and the licensed driver pay scale for that event.
Drivers, get registered for RacinDirt King of America XII and B-Mod Battle at The Bullring at the Humboldt Speedway at myracepass.com/series/1129/registrations. You can also call (515) 832-7944 or (515) 832-6000 for B-Mod registrations. Three-day entry fees are $450 for USMTS Modifieds and $250 for B-Mods. Entry fees will increase on race day. Credit card payments add $5 service fee.
BULLRING B-MODS
Thursday A-Main: 1. $2000, 2. $1200, 3. $800, 4. $600, 5. $500, 6. $450, 7. $400, 8. $350, 9. $300, 10. $275, 11. $250, 12. $240, 13. $230, 14. $225, 15. $220, 16. $215, 17. $210, 18. $205, start $200, tow $50. (Entry Fee $100)
Saturday Non-Qualifiers Race: 1. $700, 2. $500, 3. $400, 4. $300, 6. $250, 6. $225, 7. $200, 8. $190, 9. $180, 10. $175, 11. $170, 12. $165, 13. $160, 14. $155, tow $150.
Saturday A-Main: 1. $5000, 2. $3000, 3. $1700, 4. $1200, 5. $900, 6. $800, 7. $700, 8. $650, 9. $600, 10. $590, 11. $580, 12. $570, 13. $560, 14. $550, 15. $540, 16. $535, 17. $530, 18. $525, 19. $520, 20. $515, 21. $510, 22. $505, start $500. (Entry Fee $150)
Event managers John Allen and Todd Staley will have the final decision on the eligibility of a driver to compete in the B-Mod division. of KoA. Drivers finishing among the top 10 in national points with World of Outlaws Late Models, USMTS, Dirt Knights, USCS, MLRA/Lucas Oil Late Model Series and/or Hell Tour Late Models in 2022 are not eligible to compete. Drivers who qualified for the Modified or Late Model A-Main at the IMCA Super Nationals, Duel in the Desert, Fall Jamboree, Silver Dollar Nationals, Harris Clash, Grant Junghans Memorial, Wissota 100/King of Dirt or UMP Fall Nationals are also not eligible to compete. Drivers who won a Modified or Late Model track championship in 2022 are not eligible.
The above rules do not apply if the driver competed in 20 or more events in a B-Mod type division in 2022. Any driver with 20 sanctioned races in a B-Mod type class in 2022 is eligible to compete in the Battle at The Bullring.
Other series and/or events may be added. All decisions by the event managers are final. Please ask before attending the Battle at The Bullring.
Using each sanction's 2023 rules package (no mixing), the following are permitted:
Option 1 – USRA B-Mods (see usraracing.com/rules)
Option 2 – USRA Limited Mods (see usraracing.com/rules)
Option 3 – Wissota Midwest Modifieds (see wissota.org/rules). Wissota Midwest Modifieds may use the Hoosier 35W or American Racer KK704. No mixing of brands and must be the same on all four wheels.
Option 4 – IMCA Northern Sports Mods (see imca.com/rules)
Option 5 – IMCA Southern Sports Mods (see imca.com/rules)
Post-Race Technical Inspections: Tech officials will thoroughly test engines by any means necessary including, but not limited to, cubic inch tester, whistler for compression ratio, valve spring tester, scope, compression tester, etc. Humboldt Speedway officials reserve the right to disassemble any engine to any degree needed to verify legality of engine. Decisions by tech officials are final and binding. Technical inspections will be performed by Darlo Mulder and Leon Bash, along with their assistants.
GM 602 Crate Engine – If tech officials feel some or all components of the engine must be checked further by sending the components in question to an authorized GM rebuilder of Humboldt Speedway's choice, winning and awards will be held until the engine is deemed legal.
Spec Engine – If needed, tech officials will contact sanctioning bodies to verify rules during the inspection process.
Vendor Midway: Allen's Automotive, Dirt Gangster, Fast Shafts, Humboldt Speedway souvenirs and USMTS souvenirs. VP Racing Fuel, American Racer racing tires and parts will be available at the Allen's Automotive track store located near the party barn in the pits. Call (620) 431-8073 for more information. VP Racing fuel, American Racer racing tires and parts will be available at the Allen's Automotive track store located near the party barn in the pits. Call (620) 431-8073 for more information.
Humboldt Speedway: Located off of US 169 to the Humboldt exit, then 0.1 mile west, then 0.5 mile south, then 0.9 mile east to 1663 Georgia Rd, Humboldt, KS 66748. The track is a 1/4-mile semi-banked clay oval. Check out HumboldtSpeedway.com to learn more.
USMTS turns 25 in '23: The Summit USMTS National Championship presented by RacinDirt currently features 47 nights of racing at 15 of America's premier dirt track racing venues in nine states. Just the winners of those events are set to earn more than $300,000 with nearly $2 million in purses and prize money earmarked for the 2023 campaign.
The Silver Anniversary season for the USMTS blasts off with the 13th Annual Summit Spring Nationals on Thursday, Friday and Saturday, March 2-4, at the Rocket Raceway Park in Petty, Texas.
Watch every USMTS event online live and on-demand from anywhere on any device with RacinDirt. Download the app at Roku, Amazon Fire, iOS, Apple TV or on Google Play.
Visit usmts.com for schedules, points, photos, souvenirs, videos and more. Follow our social media channels on Facebook, Instagram, Twitter and YouTube. Click here to get USMTS news delivered to your inbox.
USMTS OFFICIAL SPONSORS: American Racer Racing Tires, Beyea Headers, Chevrolet Performance, Compstar, Fast Shafts, FK Rod Ends, Intercomp, K1 RaceGear by Ryan Bowers Motorsports, KS Engineering, KSE Racing Products, Malvern Bank, Mesilla Valley Transportation, MSD Performance, Nitroquest Media, PEM Racing Gears & Drivetrain, RacinDirt, Summit Racing Equipment, Super Clean, VP Racing Fuels, Wieland Metal Services.
USMTS PARTICIPATING SPONSORS: ARMI Contractors, Boubin Tire & Automotive, Brodix Cylinder Heads, Collins Brothers Towing, DAY Motorsports, Gunshepherd.com, Hacienda Mechanical, Kenny's Tile, Mel Hambelton Racing, Midwest Wrap Co., Miller Welders, PBM Performance Products, Rancho Milagro Racing, S&S Fishing & Rental, Salty's BBQ & Catering, Shocker Hitch, YouDirt.com.
USMTS CONTINGENCY SPONSORS: AFCO Racing Products, Allstar Performance, BigDeal Car Care, Bryke Racing, BSB Manufacturing, Champ Pans, Deatherage Opticians, Edelbrock, Hooker Harness, Integra Racing Shocks and Springs, JE Pistons, Keyser Manufacturing, Penske Racing Shocks, Performance Bodies & Parts, QA1, RacerWebsite.com, Real Racing Wheels, Simpson Performance Products, Swift Springs, Sybesma Graphics, Tire Demon, Wehrs Machine & Racing Products, Wilwood Racing.
USMTS RACETRACKS: 81 Speedway, Ark-La-Tex Speedway, Arrowhead Speedway, Cedar Lake Speedway, Deer Creek Speedway, Fayette County Speedway, Hamilton County Speedway, Humboldt Speedway, I-70 Speedway, Lakeside Speedway, Las Vegas Motor Speedway Dirt Track, Lucas Oil Speedway, Mason City Motor Speedway, Ogilvie Raceway, Rocket Raceway Park.