October 17, 2014
VP Racing Fuels Station Grand Opening
A look at the grand opening celebration held at the VP Racing Fuels and Andy's Express Fuel Station in Lincoln, Neb.
watch video
October 17, 2014
Subscribe to the COMP Cams YouTube Channel
Don't miss the latest new products, tech and customer videos from the leader in valve train technology from COMP Cams -- the Official Cam of the USMTS.
watch video
2013 USMTS "Checkered Stars" Long-Sleeve Thermal Shirt
Get dressed with the Best of the Best. Shop for shirts, hats, hoodies, collectibles and more in the USMTS online store!
check it out
October 12, 2014
Congratulations Mr. & Mrs. Staley!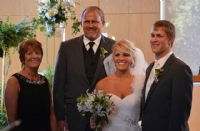 Ryne Staley and Morgan Hejna tied the knot on Saturday, Oct. 11, 2014, at the Lutheran Church of Hope in West Des Moines with family and friends in attendance.
read more
October 9, 2014
VP Racing Retail Fuel Stations Commercial - "Behind The Scenes"
Your favorite racing fuel brand now has Retail Gas Stations! Check out this "behind the scenes" look at the making of VP Racing Fuels' 1st commercial for its retail fuel
watch video
September 30, 2014
Fall TV Spot - Grandparents 2014
Casey's Famous for Pizza.
watch video
September 24, 2014
SOUND OFF: Rodney Sanders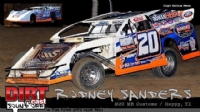 Two-time and newly-crowned 2014 USMTS national champion Rodney Sanders of Happy, Texas, joined Dirt Cast to talk about his unbelievable Hunt of the USMTS Casey's Cup, winning his second title, winning the Featherlite Fall Jamboree and more.
read more
September 21, 2014
Terry Schultz's #90 USRA Modified heat race during the Featherlite Fall Jamboree
Ride along with Terry Schultz in his #90 USRA/USMTS Modified during the Featherlite Fall Jamboree at Deer Creek Speedway in Spring Valley, Minn., on Sept. 19, 2014. In-ca
watch video