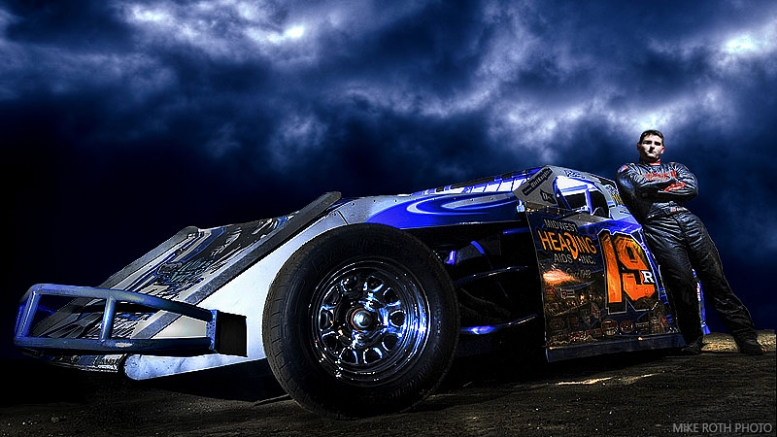 Ryan Gustin won his first USMTS national championship in 2011.
Gustin an army of one in 2018
---
Ryan Gustin has won just about every title there is to win with the United States Modified Touring Series, and in 2018 he plans to add another new title to the list: team owner.
He'll be driving the car too, of course.
For the first time since his initial USMTS start more than 11 years ago, 'The Reaper' will be the sole judge, jury and executioner of his own operation as he ventures out in 2018 on the heels of a remarkable 2017 campaign behind the wheel of a team car out of the stable of Jason Hughes.
"What a great year it has been—from winning some of the biggest crown jewels in dirt modified racing to just the tour races we participated in," Gustin announced on his Reaper Nation Facebook Page. "We would like to take the time to thank each and every one of our sponsors and all the great people that came out and spent their hard-earned money to support the love we have for dirt track racing."
Although the partnership with Hughes lasted a little less than a year, the team accomplished more in under 365 days than most will have on their résumé by the time they hang up the helmet.
There are certainly no hard feelings, Gustin noted. In fact, he and Hughes will continue to work together in different ways and offer each other support before, during and after the races.
Moreover, the team did just about everything they set out to do during the last year. For Hughes, the expense of operating a two-car team is daunting. For Gustin, it allows him to be close to his family in Marshalltown, Iowa, but still have the race car just a few steps away. For Hughes' long-time crew chief Steve Karver, it may just allow him to rediscover what a full night of sleep feels like.
"We can't thank Jason, Steve, Jay and the entire Hughes Racing Chassis tam for such a phenomenal year we had. We have already started to plan and prepare for the 2018 season and look forward to seeing everyone next year."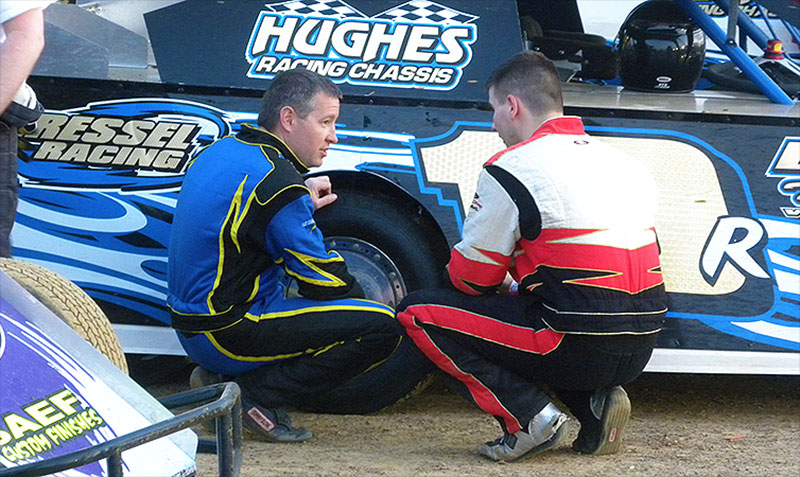 Jason Hughes (left) chats with Ryan Gustin prior to the start of a race night in 2010 at the Outlaw Motor Speedway near Muskogee, Oklahoma. This was Gustin's first event behind the wheel of the No. 19r Gressel Racing Modified.
Except that he will be responsible for the bills and have complete control over his career, not much will change for Gustin with regards to the look of the race car or the parts and pieces that go into it.
"We'll definitely still be racing a Hughes car next year," Gustin said. "We're also excited to be working with JRi Shocks, AFCO Brakes, FK Rod Ends and we'll be on Hypercoil Springs. We're just in the process of talking to our other sponsors and manufacturers right now and hope to have some exciting news in the near future.
"We'll run with the USMTS and probably find a few other races to go run with when USMTS isn't racing."
There is, however, one big change coming in 2018 when Gustin begins using powerplants from Tri Star Engines and Transmissions. Located in Baldwin, Wisconsin, Tri Star has been supplying racing engines and support for multi-time Wissota national champ Craig Thatcher for 20 years.
"We just made the trip up there this past week to meet with Dave, the owner, and take a look at their facilities," Gustin added. "Their operation is impressive. I have no doubt these guys can get it done."
Since 2010, Gustin has almost exclusively used Mullins Race Engines—a five-time USMTS Engine Builder of the Year Award winner.
The last time Gustin had his own team (so to speak) was racing for his father Rick. Chasing USMTS checkers in 2009, he was in a Skyrocket and hammering down the highways in a dually pickup pulling an open trailer. Eight seasons, two titles, 95 wins and over $800,000 in earnings later he's again an army of one.
Gustin made his USMTS debut on April 15, 2007, at the Quad Cities Raceway in East Moline, Illinois. It was a sign of things to come as Gustin won his heat race and started on the front row next to his brother, Richie Gustin. Mechanical woes kept them out of the winner's circle.
In August of 2008, he snagged his first USMTS victory at the Highway 3 Raceway in Allison, Iowa, to become the youngest winner in USMTS history at 17 years, 10 months and 13 days old—a record that still stands today.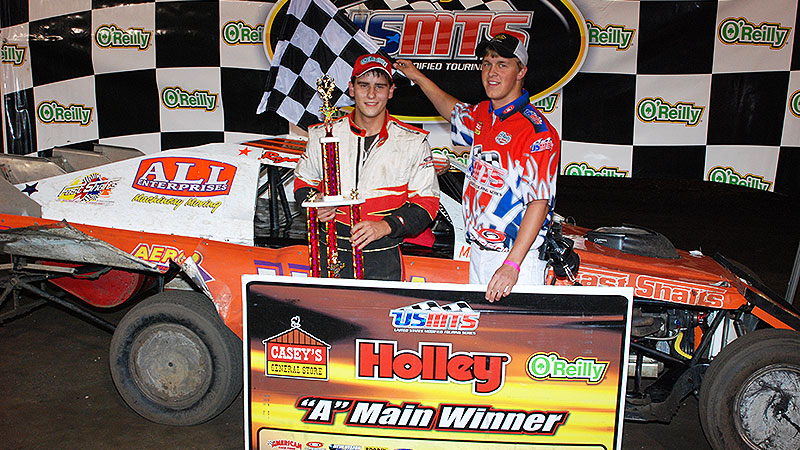 Ryan Gustin in victory lane at the Highway 3 Raceway in Allison, Iowa, after winning his first USMTS main event on August 28, 2008.
After a strong run during his first season with Gressel Racing in 2010, the 2011 campaign saw a star born when a 20-year-old Gustin recorded the second-most wins in a single season and became the youngest driver to capture the USMTS national championship.
It was sweet vindication for Gustin after two straight seasons of runner-up finishes in the points despite entering the final weekend of competition with the title within reach. Gustin won 25 times in 2011 and led 750 main event laps compared to his closest competitor, Kelly Shryock, who led 287.
Gustin repeated the feat in 2012... twice. He captured both the USMTS National Championship Series title as well as the first-ever USMTS Casey's Cup Series crown to join Shryock as the only other multi-time champ. His earnings for the 2012 campaign eclipsed the $200,000 mark—yet another record for the rising star of the dirt modified racing world.
In September of 2016, Gustin parted ways with Gressel Racing just days after turning back Scott Bloomquist to win $40,000 at the USRA Modified Nationals at the Mississippi Thunder Speedway.
The following month, Gustin teamed up with Hughes and began winning right out of the box. He won $20,000 at the USRA Fall Nationals at the Southern New Mexico Speedway before capturing a few thousand more dollars at the inaugural Chisholm Trail Showdown at the 81 Speedway.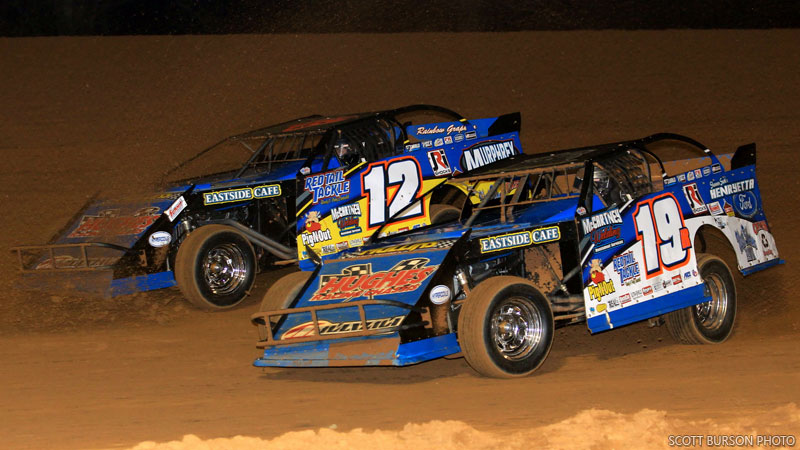 The combination of Jason Hughes (12) and Ryan Gustin (19r) in 2017 was just as potent as many had predicted. Hughes went on to capture his fourth USMTS national title while Gustin won nearly every crown jewel event on the calendar.
With close to $200,000 in winnings in 2017, Gustin won nearly every big-time, big-money, high-profile event including a second King of America crown, The $50,000-to-win Masters, two out of three features at the Featherlite Fall Jamboree and the Silver Dollar Nationals.
For his fans, the news of Gustin returning to the USMTS full time in 2017 is welcome and exciting news. For his competitors, not so much.
USMTS Awards Banquet: The sponsors, crew members, drivers and their families will be celebrated at the annual USMTS awards banquet on Saturday, January 27, at the Ameristar Casino Hotel in Kansas City, Missouri.
A record crowd of nearly 300 people attended last year's gala, and this year's party will once again be a joint effort for both the USMTS and United States Racing Association (USRA). Fans and members of the media are invited to attend too.
Those attending this year's celebration are encouraged to reserve their rooms as soon as possible to take advantage of huge savings. For reservations, call the Ameristar Casino Hotel at (816) 414-7435 and request the USMTS discounted room rate.
In addition to the awards ceremony, the evening's meal will feature a luxurious and plentiful selection of fine food, plus a huge dessert bar. A cash bar will also be available. Tickets will go on sale this month.
In just 110 days from now, the USMTS will kick off the 2018 season at the South Texas Speedway in Corpus Christi, Texas, on Thursday, Friday and Saturday, February 22-24, 2018.
To learn more about the United States Modified Touring Series, visit www.usmts.com online or call 515-832-7944. You can also like us on Facebook, follow us on Twitter and Instagram at or subscribe to our YouTube channel. To keep up to speed with everything USMTS, join our email list.
= = = = = = = = = = = = = = =
USMTS OFFICIAL SPONSORS: American Racer Racing Tires, Argo Manufacturing, Casey's General Stores, Chix Gear Racewear, CP-Carrillo, Deatherage Opticians, Fast Shafts, Intercomp, KSE Racing Products, Leaf Racewear & Safety Equipment, Malvern Bank, MSD, Pace Performance, RacerWebsite.com, RacinDirt.com, RacingJunk.com, S&S Fishing & Rental, SToK Cold-Brew Coffee, Summit Racing Equipment, The Joie of Seating, VP Racing Fuels.
USMTS PARTICIPATING SPONSORS: Arizona Sport Shirts, ASi Racewear, Brodix Cylinder Heads, Duvall Electric, ElbowsUp.com, Mesilla Valley Transportation, Oreo, Production Jars, Rancho Milagro Racing, RHRSwag.com, YouDirt.com.
USMTS CONTINGENCY SPONSORS: 905 Ink, AFCO Racing Products, Allstar Performance, Beyea Custom Headers, BigDeal Car Care, BSB Manufacturing, Day Motor Sports, Dickson Racing Shocks, E3 Spark Plugs, Edelbrock, FK Rod Ends, Forty9 Designs, Fuel Safe, Genesis Racing Shocks, GRT Race Cars, Holley Performance Products, Hooker Custom Harness, Integra Shocks & Springs, Jerovetz Motorsports Racing Parts, Keyser Manufacturing, Out-Pace Racing Products, QA1 Precision Products, Real Racing Wheels, Simpson Performance Products, Sweet Manufacturing, Swift Springs, Sybesma Graphics, Tire Demon, Wehrs Machine & Race Products, Wilwood Disc Brakes.