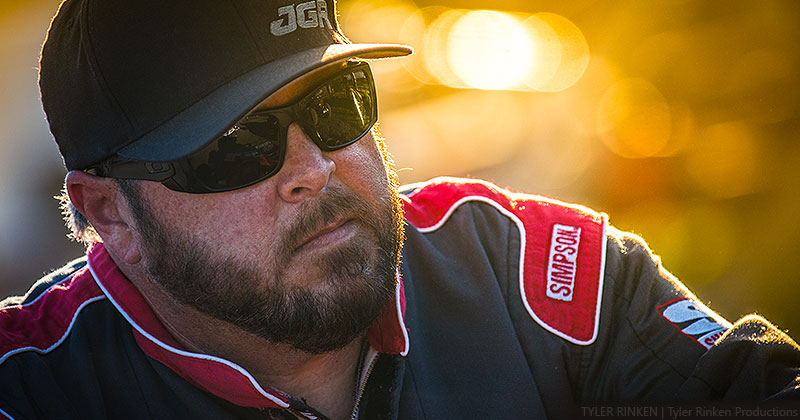 Terry Phillips of Springfield, Mo., captured the USMTS victory on Sunday night in his first-ever trip to the Mason City Motor Speedway.
Wild finishes highlight Mason City show
---
Terry Phillips joked that it used to be called "vacation racing."
In his younger days, that's what he would refer to some touring series' as.
That's not the case anymore.
"We used to joke about vacation racing back when I run my Late Model and run Modifieds and win some. Now, we've got to work hard. We get there early and work hard like everyone else," Phillips said. "It's a mad serious group of racers, and I tip my hat to all of them."
On Sunday, Phillips stood tall at Mason City Motor Speedway after claiming his 25th career USMTS feature victory.
The $2,875 payday came in his first appearance at half-mile, and the veteran driver from Springfield, Mo., had a little luck on his side to snap a dry spell in the USMTS that had eclipsed two years.
Johnny Scott was aiming for the perfect weekend—three races, three feature wins—and it looked like it was going to happen for the USMTS Hunt for the Casey's Cup national points leader.
Scott darted to the front and built a solid lead on Phillips with less than 10 laps remaining.
But then Scott suffered a flat tire with eight laps to go.
"I think Johnny had me covered," Phillips said. "But sometimes I'd rather be lucky than good."
The entire complexion of the 25-lap main event changed when Scott pulled pit side. He did recover to finish sixth after fixing that flat tire.
But the door was open for Phillips, who held off Lucas Schott in the final circuits to win at a race track that suits his driving style.
"It's the first time I've ever been here," he said. "The track had some character, and I like that. I like these big, old, fast race tracks."
Schott scored a runner-up finish, followed by Rodney Sanders, Zack VanderBeek and Dereck Ramirez.
Wild finishes was the story for racers in the the other classes too.
Scott Dobel felt a sense of urgency. His winless drought had reached two years in the Cook Racing Supplies USRA Hobby Stock division at Mason City Motor Speedway, and he said Sunday night was an opportunity he needed to take advantage of.
And that meant driving a little outside of his comfort zone.
"I hate to win like that," Dobel said. "I'd rather come back with no body damage. It's been a long time… two years of frustration."
Dobel captured a thrilling Hobby Stock feature Sunday, winning his first feature at his home track since August of 2016.
To do so, Dobel, on the inside line coming out of turn four with the checkered flag in site, squeezed Derek Willert, who was on the preferred high line, and the two made contact. Willert was forced into the wall. Dobel went on to win.
Dobel was relieved to break his dry spell. Willert, who finished second, was visibly upset with how he was raced and let Dobel know about it by ramming into him on the backstretch.
"I expected that," Dobel said. "I get it. It's one of those deals… racing… he'll probably have an opportunity to get me back someday. That's just the way it rolls."
That was just one of the wild finishes Sunday night.
In the Out-Pace USRA B-Mod feature, Jim Chisholm and Nate Whitehurst were engaged in a thrilling battle in the final circuits.
Coming out of turn four on the final lap, it was a toss-up who was going to win. Shockingly, it turned out neither did as the two cars spun coming out of turn four at the exact same time while running side by side.
Jared Boumeester hasn't needed a whole lot of luck to win races this year at MCMS, but he was lucky Sunday night.
Boumeester has finished in the top 3 in all eight B-Mod features at MCMS this season after Sunday's win.
In the Holley USRA Stock Cars, 2017 track champion Luke Sathoff found victory lane. The driver from Jackson, Minn., didn't have any breathing room until the final few laps as he and Todd Staley had a tremendous side-by-side battle throughout a chunk of the race.
Staley took second, followed by Josh Zieman, Kevin Stoa and Andrew Borchardt.
Oliver Monson emerged with a hard-fought victory in the Rookies Rockin' USRA Tuner main event as he edged Ryan Bryant. The two were involved in a tight battle from the drop of the green to the checkered flag.