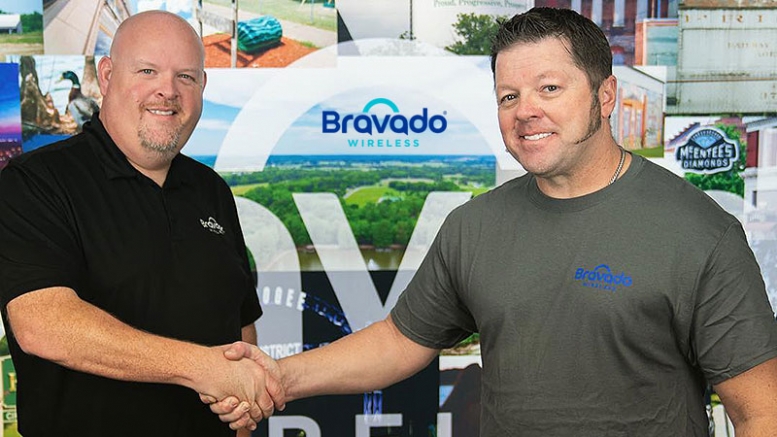 Duvall partners with Bravado Wireless for 2019 campaign
---
Joe Duvall Racing has announced an exciting new marketing partnership with Oklahoma-based Bravado Wireless riding along with the electrifying dirt track racer throughout the upcoming 2019 racing season.
"We're going to be proud sponsors of Joe Duvall and the Club 91 Modified this year," said Bravado Wireless Marketing/Media Eric Shannon. "Joe is a big part of USMTS racing, especially around here in Oklahoma and Arkansas and Texas, so it's going to be a great ride and we can't wait for it this summer to hop on that 91 car and just ride around in circles with Joe."
Webster's dictionary states that the term "bravado" ultimately traces to the old Italian adjective bravo, meaning "courageous" or "wild," so when Bravado Wireless welcomed flat track motorcycle racer turned dirt modified driver Duvall to their team, it sounded like a perfect fit.
"Bravado Wireless has really supported a bunch of racers and race tracks for several years," Duvall said. "I'm thrilled to be here and we look forward to being a good spokesman for Bravado, and look forward to producing a lot of videos from the road with the USMTS and select other races from across the country.
"It's going to be fun, and you'll be entertained."
Duvall, 46, is owner and operator of Duvall Electric in Claremore, Okla., and has more than a quarter-century of experience racing everything from flat track motorcycles to battling the Best of the Best in dirt modified racing with the United States Modified Touring Series. His career highlights include back-to-back track championships in 2009 and 2010 at the Outlaw Motor Speedway near Muskogee and the 2010 NASCAR All-American Oklahoma State Champion.
'Big Daddy' finished among the top 10 in both the USMTS Casey's Cup national tour and Summit USMTS Southern Series points in 2018.
Being a family owned company and a member of the local communities, Bravado Wireless prides on providing exceptional customer service along with nationwide 4G LTE coverage. Currently with 10 retail store locations throughout eastern and southeastern Oklahoma, Bravado Wireless will be expanding into Western Arkansas and Northern Texas within the next year.
Bravado Wireless has all of the talk, text, data and home internet plans to fit your needs and budget. Check out wireless, home internet and data plans today at www.bravadowireless.com or call 866-500-8488. You can also follow them on Facebook and Twitter or subscribe to their YouTube channel.
In addition to Bravado Wireless, Joe Duvall Racing is made possible by support from Bergman Tax & Accounting, Pace Performance, Deatherage Opticians, American Racer Racing Tires, ARMI Contractors, BulletProof Tees, Driven Racing Oil, Duvall Electric, Fast Shafts, Five1seven Designs, MB Customs Race Cars, Real Racing Wheels, Schoenfeld Headers, Swift Springs, VP Racing Fuels Heartland and Wehrs Machine & Racing Products.
For more information, check out www.joeduvall91.com on the World Wide Web and be sure to follow him on Facebook and Twitter.