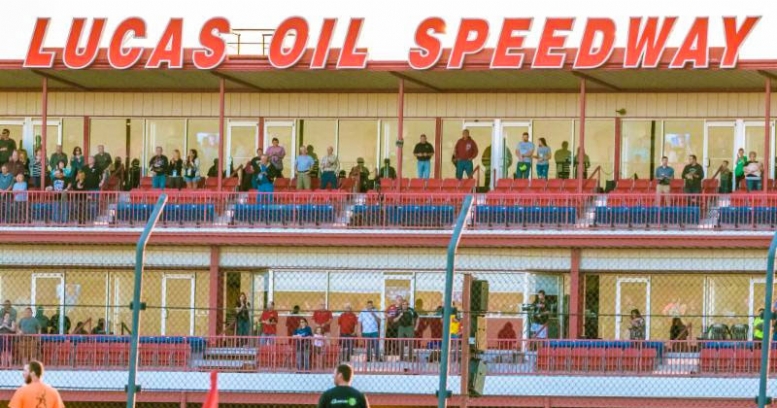 Catch 2019 Lucas Oil Speedway events in style with full-season suite lease packages
---
With season passes currently on sale for the 2019 Lucas Oil Speedway season, it's often overlooked that fans or businesses also can lease luxury suites for the entire season and watch the races in climate-controlled style.
"It's a great way to take in the races with all the comforts, whether you're a group of race fans who go in together or a business that can entertain clients, customers or employees with championship-level racing as a backdrop," Lucas Oil Speedway General Manager Danny Lorton said.
Admissions Director Nichole McMillan said she currently has two smaller suites that hold 12 people on the second level, each available for $9,500 for every event on the schedule. That includes the 27th annual Show-Me 100 presented by ProtecttheHarvest.com.
"That also includes all three nights of the Hockett Memorial, the Lucas Oil Pro Pulling League, Lucas Oil Pro Bull Riding and Monster Trucks, too," McMillan said. "I also have the 18- and 27-person suites on the third floor that range from $11,000 to $15,500 annually."
The USMTS will tackle the Lucas Oil Speedway on Saturday, Aug. 3, for the 10th Annual Slick Mist Show-Me Shootout.
A total of 21 suites on the second and third levels of the main tower complete overlooking the front straight-away include elevator access, indoor and outdoor seating, a hostess to serve food and drink and cable television. The inside portion of the suites include leather furniture and tall barstool style seating with a refrigerator, kitchen sink, counter top and cabinets.
Each suite for each event receives one complimentary food tray and two six-packs of Coca-Cola products, water or beer. There is a menu with a selection of nine different food platters to choose from with each platter enough to feed 10-12 people. The suite hostess will serve items from the bar and concessions upon request, including more food platters and drink items.
Some suites also will be available for individual events. Contact McMillan at (417) 282-5984 or via email at nichole@lucasoilspeedway.com for more pricing information, or to even arrange a tour of the suites. Tickets for individual events and season passes also remain available.
The Lucas Oil Speedway season kicks off with an open test and tune on March 30, with the Summit USRA Weekly Racing Series opening night featuring USRA Modifieds and Out-Pace USRA B-Mods set for April 6.