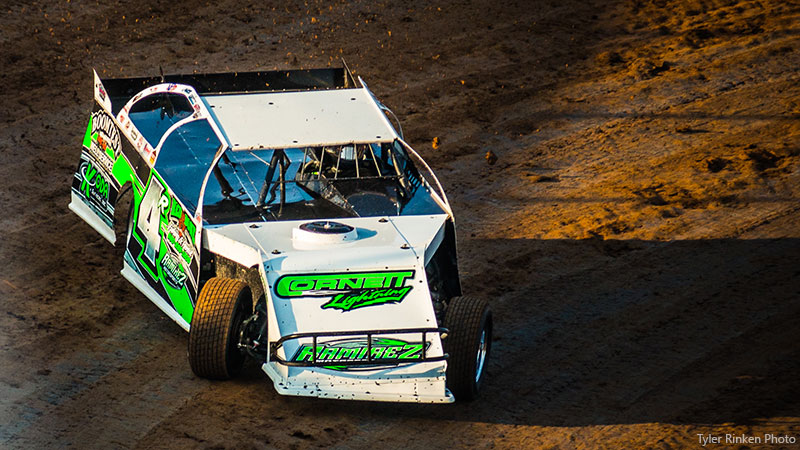 Ramirez one to watch at Saturday's Show-Me Shootout
---
Dereck Ramirez has become one of the leading contenders on the USMTS championship trail in recent years, with 2019 his best season. The Oklahoma native is No. 2 in national series points with two wins and 11 top-five finishes in 17 events.
"It's probably the best year I've had so far," Ramirez said before the start of a four-event USMTS weekend that includes Saturday's 10th annual Slick Mist Show-Me Shootout presented by Foley Equipment at Lucas Oil Speedway.
But there was a time that Ramirez, 32, didn't envision making a career out of driving a race car. An outstanding baseball pitcher and also a basketball and football standout in high school, Ramirez gave college baseball a shot.
"I went and played college baseball for three or four months, then quit," Ramirez said. "I'd had enough of it. I had played it from the time I was five years old until then and was kind of wore out from it."
That decision was in direct correlation to Ramirez beginning to take racing more serious. Until then, baseball and other interests took priority.
"When I was little, we are around (racing) quite a bit," he said. "My dad (Leon) raced in the early '80s and I had brothers who kind of got out of it because they couldn't afford to do it. Then about 2001 my dad sponsored a couple of guys from Woodward who raced and kind of got back into it.
"He bought me a race car for Christmas in 2004 and I've been in (racing) ever since."
That was midway through his junior year of high school, though Dereck and racing did not connect right away with him.
"It was pretty hard to get interested in racing at the time," he said. "I played football, basketball and baseball in high school. And you know high school kids, they want to go and do stuff on weekends and my dad wanted me to go to the race track. I wasn't really interested in racing because it took up my free time.
"I really wasn't that good at it," he added of his first starts behind the wheel. "I was pretty bad, actually. I'm not sure if it was that I was bad or that I wasn't interested."
Then after the decision to drop baseball and college, the racing path became more clear. He said it was either race for a living or go work in the oil fields, like his older brothers.
The decision has turned out to be a good one as Ramirez has become one of the top drivers on the USMTS circuit. Thiursday kicked off the Casey's Hunt for the Championship—a series of 21 races over the next six weeks that's a points chase within the season race.
An avid supporter of the Oklahoma City Thunder and Oklahoma Sooners, Ramirez said he and his team are ready for the grind ahead.
"Right now our goal is to win the Hunt," he said. "The national championship is not out of the picture. We're 177 points behind (Rodney) Sanders and with the way our points are done, it's hard to make up a lot of ground. Rodney always is in the top five. It's gonna take some good points nights for us and some bad nights from him to cut that margin down.
"But the Hunt, everybody begins on an even playing field with no points."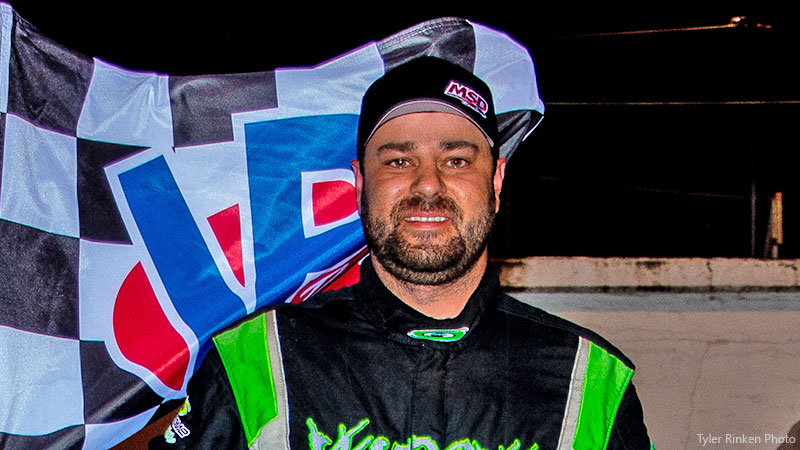 ​
For a look at the complete USMTS schedule and points list, visit USMTS.com.
Saturday's Slick Mist Show-Me Shootout presented by Foley Equipment brings together the USMTS regulars and the best of the Pitts Homes USRA Modified weekly regulars in a 40-lap headliner that will pay $3,000 to the winner.
Among the Pitts Homes USRA Modified regulars at Lucas Oil Speedway, the two highest in track points without qualifying for the feature will receive provisionals into the main event.
Also in action on Saturday will be the Ozark Golf Cars USRA B-Mods and O'Reilly Auto Parts Street Stocks. They will be running 20-lap features for regular Big Adventure Weekly Racing Series points.
Gates will open at 4 p.m. with hot laps at 6:30 and opening ceremonies at 7. Fans can pick up $2 discount admission coupons this week at participating Casey's General Stores.
Admission prices:
Adults (16 and over) $20
Seniors (62 and over)/Military $17
Youth (ages 6-15) $10
Kids (5-and-under) FREE
Family Pass $50
Pit Pass $40
For questions about tickets or camping for any event at Lucas Oil Speedway, contact Admissions Director Nichole McMillan at (417) 282-5984 or via email at Nichole@LucasOilSpeedway.com.
Complete Lucas Oil Speedway event information, archived race recaps, previews and driver features, along with ticket information and 2019 schedule can be found by visiting LucasOilSpeedway.com.
Lucas Oil Speedway is located at Highways 83 and 54 in Wheatland, Missouri. A campground with shower and bathroom facilities is also available. With its entrance located just outside the pit gate this sprawling scenic camping facility will continue to enhance the racing experience at the Diamond of Dirt Tracks.
Click LucasOilSpeedway.com for more information and detailed directions to the speedway or call the Track Hotline at (417) 282-5984.
In addition, fans can get social with Lucas Oil Speedway by following @LucasSpeedway on Twitter, clicking "Like" at facebook.com/LucasOilSpeedway and on youtube.com/LucasOilSpeedway
To learn more about the United States Modified Touring Series, visit usmts.com. You can also like the USMTS on Facebook, visit us on Instagram, follow us on Twitter, connect with us on LinkedIn and watch us on our YouTube channel. Keep up to speed with everything USMTS and subscribe to our e-Newsletter.
About Lucas Oil Speedway
Lucas Oil Speedway is considered by fans, drivers and industry insiders to be one of the top five racing facilities in the nation. Located in Wheatland, Missouri, approximately an hour from Springfield, Missouri, and just an hour and a half from the Kansas City metro area, the "Diamond of Dirt Tracks" lives up to its title.
Twenty-One VIP Luxury Suites, HD Jumbo-Tron Screen, Stadium Style Musco Sports Lighting, a Bose Sound System, Go-Kart Slick Track, The Diamond Bar, Track Treasures Gift Shop, the best track food in the country and paved pits are a few of the spectacular amenities setting the Diamond of Dirt apart. This year marks the ninth season for the Liquid Quarter Mile Drag Racing Lake, "Lake Lucas." New for 2017 was all-purpose built Off Road facility featuring the Lucas Oil Off Road Racing Series as well as a host of other regional events.
Lucas Oil Speedway's dirt oval track plays host to some of the largest and most-popular events in the Midwest with national and regional touring series appearing frequently including: The Lucas Oil Late Model Dirt Series, POWRi Midget National Series, Lucas Oil Pro-Pulling League, United States Modified Touring Series, ASCS Sprint Cars and the Lucas Oil MLRA.
In addition to the special events, the Lucas Oil Speedway Big Adventure RV Weekly Racing Series features the Warsaw Auto Marine & RV ULMA Late Models, Pitts Homes USRA Modifieds, O'Reilly Auto Parts Street Stocks and the Ozark Golf Cars USRA B-Mods.