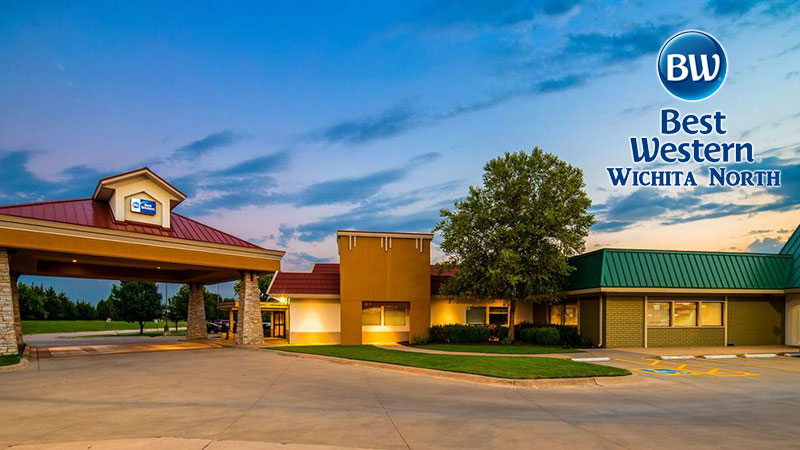 Best Western Wichita North is Official Host Hotel for USMTS fans and racers at Chisholm Trail Showdown, Grant Junghans Memorial
---
The 81 Speedway in Park City hosts a doubleheader November 15-16 with the 3rd Annual Chisholm Trail Showdown on Friday and 4th Annual Grant Junghans Memorial on Saturday.
As the most popular and fan-friendly lodging solution in the area, the Official Host Hotel for the season-ending blockbuster events is the nearby Best Western Wichita North.
As the preferred lodging location for USMTS competitors and fans, the Best Western Wichita North is offering a discounted rate for racers and fans. Call (316) 832-9387 to make your reservation today and mention "81 Speedway" to get the discounted rate.
Located just off just off I-35 at 915 E. 53rd St. North in Wichita, guests will enjoy a nice stay in a comfortable hotel near Old Town Wichita, with ample vehicle parking for RVs, trucks and buses.
Best Western Wichita North also features convenient amenities such a fitness center, indoor pool and guest laundry to make guests feel right at home, and their pet-friendly hotel allows you to bring your furry pal along.
Best Western Wichita North offers delicious meals at their on-site restaurant, Country Kitchen Restaurant, plus free WiFi, whirlpool suites and mobility accessible features makes your stay even more enjoyable.
Visit wichitabestwestern.com for more information.
Memorializing one of the most popular USMTS racers ever, the Grant Junghans Memorial will once again pay $10,002 to the winner while every main event starter will earn at least $1,202.
The racing world lost Grant Junghans on March 12, 2016, after a courageous six year battle with a rare form of neuroendocrine cancer. The Grant Junghans Memorial race is an opportunity for his family, friends, fans and fellow competitors to remember the good times and racing memories shared in his 27 years with us.
Junghans was first diagnosed with cancer in February of 2010. Despite on-again off-again chemotherapy treatments and numerous surgeries, he never lost his sense of humor, fighting spirit or natural-born tendency to be decent to others.
He was also the 2009 USMTS Rookie of the Year and that award has since been renamed in his honor.
Lucas Schott topped the inaugural Grant Junghans Memorial in 2016, Rodney Sanders took home the trophy in 2017 and Jake O'Neil won last year.
This year's event is even more special as the race will take place on the eve of Grant's birthday. It's also the first year that the race will be hosted by the 81 Speedway.
"C. Ray Hall has done a great job at 81 Speedway," said USMTS President Todd Staley. "One of our closest finishes of the season happened here to kick off the Hunt for the Casey's Cup when Terry Phillips nipped Dereck Ramirez at the line."
In addition to the top prize of $10,002, Non-qualifiers will take home no less than $152 for a single day's work. Long Tow Awards of $500, $400, $300, $200 and $200 will be awarded. Heat races will pay $100, $75, $50 and $25 to the top four, respectively, and dozens of other cash prizes and contingencies will also be up for grabs.
Friday's Chisholm Trail Showdown will pay $3,000 to win and $250 to start the main event. This show is separate from Saturday's Grant Junghans Memorial with NCRA, USMTS and/or USRA rules in effect for Modified competitors.
In addition to the world's best in open-wheel dirt modified racing, the USMTS warriors will be joined by B-Mods both nights. B-Mods will be racing for $500 to win and $75 to start on Friday. On Saturday night, B-Mods will battle for $1,002 to win and $122 to start the feature.
For every grandstand ticket and pit pass sold, $5 will go to the Grant Junghans Memorial Fund which supports research and funding for childhood cancer. Also, $25 from each entry received will go to the fund. Last year more than $20,000 was raised.
There will be a practice session on Thursday from 5:30-8 p.m. The pits will open at 4 p.m. Pit passes will be $20.
FRIDAY NOVEMBER 15
Pits Open 3:00 p.m.
Grandstands Open 5:00 p.m.
Drivers Meeting 5:30 p.m.
Racing at 6:00 p.m.
Tickets $20
Juniors (12-16) and Seniors (65+) $15
Kids (6-11) $5
5 & Under FREE
Pit Pass $35
SATURDAY NOVEMBER 16
Pits Open 2:00 p.m.
Grandstands Open 3:00 p.m.
Drivers Meeting 4:30 p.m.
Racing at 5:00 p.m.
Tickets $25
Juniors (12-16) and Seniors (65+) $20
Kids (6-11) $10
5 & Under FREE
Pit Pass $40
The entry fee for Modifieds on Friday is $125. Saturday's Grant Junghans Memorial entry fee is $125 if paid on Friday or $150 on Saturday. B-Mods will have a $50 entry fee on Saturday.
Friday's Modified Payout: 1. $3000, 2. $1700, 3. $1100, 4. $700, 5. $600, 6. $550, 7. $500, 8. $450, 9. $425, 10. $400, 11. $375, 12. $350, 13. $325, 14. $300, 15. $275, 16. $250, 17. $250, 18. $250, 19. $250, 20. $250, 21. $250, 22. $250, 23. $250, 24. $250, Tow $90.
Saturday's Modified Payout: 1. $10,002, 2. $5002, 3. $4002, 4. $3002, 5. $2502, 6. $2202, 7. $2002, 8. $1802, 9. $1702, 10. $1602, 11. $1502, 12. $1402, 13. $1302, 14. $1292, 15. $1282, 16. $1272, 17. $1262, 18. $1252, 19. $1242, 20. $1232, 21. $1222, 22. $1212, 23. $1202, 24. $1202, Tow $152.
Friends of dirt track racing that have stepped up to support this event include A&A Electric & Underground, Malvern Bank, MB Customs Race Cars, Ramirez Motorsports, Rancho Milagro, Real Racing Wheels, Rick Beebe Heating & Air Conditioning and Shop Quik Convenience Stores.
Lap sponsors for the 50-lap main event include A One Automotive, Aceco Rental & Sales, AJ's Café, BMJ Enterprises, Broadway Truck & Auto, Caney Valley Speedway, Designs Unlimited, Dirt Life Illustrated, Dirt Monthly Magazine, Doherty Brothers Construction, Duvall Electric, FYE Motorsports, GW Performance, Hacienda Mechanical, Hass Horizontal, Hoker Trucking, Hughes Racing Chassis, Humboldt Speedway, Mesilla Valley Transportation, Mississippi Thunder Speedway, Monarch Motor Speedway, MSRMafia.com, New Point Lighting & Design, Nick, Larry and Blonde Bomber, OFI Performance, RaceKnowHow.com, Roy and Becky Thackery, S&S Fishing & Rental, SouthernStockyards.com in memory of John Stand, Vado Speedway Park, VanderBuilt Race Cars/Gresham Services and Wichita Tank Racing.
Lap sponsors can choose the lap and position of the driver who gets the money on that lap. The cost is $202 with half going to the driver and half to the Grant Junghans Memorial Fund.
Every lap of every race both nights will be covered live by the authority on digital dirt racing drama: RacinDirt.TV.
The 81 Speedway is located north of Wichita on I-135 to exit 16, then 0.7 mile west on 77th St. (7700 N Broadway St, Park City, KS 67219). For more information call (316) 755-1781 or visit race81speedway.com.
To learn more about the United States Modified Touring Series (USMTS), visit USMTS.com online or call (515) 832-7944. You can also like us on Facebook at facebook.com/USMTS, follow on Twitter at twitter.com/USMTS, check us out on Instagram at instagram.com/USMTS and subscribe to our YouTube channel at youtube.com/USMTSTV. Keep up to speed by joining our email list at USMTS.com/Subscribe.
= = = = = = = = = = = = = = =
USMTS OFFICIAL SPONSORS: American Racer Racing Tires, Casey's General Stores, Chevrolet Performance, CP-Carrillo, Deatherage Opticians, Eibach Springs, Fast Shafts, FK Rod Ends, Intercomp, Jerovetz Motorsports Racing Parts, K1 RaceGear by Ryan Bowers Motorsports, KSE Racing Products, Malvern Bank, Mesilla Valley Transportation, MSD, MyRacePass, Nitroquest Media, Pace Performance, PEM Racing Gears & Drivetrain, RacinDirt.com, RacingJunk.com, Snickers, Spike Hardcore Energy, Summit Racing Equipment, VP Racing Fuels, Wrisco Industries.
USMTS PARTICIPATING SPONSORS: Arizona Sport Shirts, ASi Racewear, Boubin Tire & Automotive, Brodix Cylinder Heads, Duvall Electric, Eagle Moon Farm, Impact RaceGear, PBM Performance Products, RACEceiver, Rancho Milagro Racing, River's Edge Scrap Management, Tony Moro Powder Coat, Top of the World Ranch, YouDirt.com.
USMTS CONTINGENCY SPONSORS: 905 Ink, AFCO Racing Products, Allstar Performance, Beyea Custom Headers, Brown & Miller Racing Solutions, Bryke Racing, BSB Manufacturing, Champ Pans, E3 Spark Plugs, Edelbrock, Forty9 Designs, Genesis Racing Shocks, Hooker Harness, Hyperco, Integra Racing Shocks and Springs, Keyser Manufacturing, Maxima Racing Oils, Out-Pace Racing Products, QA1, RacerWebsite.com, Real Racing Wheels, Simpson Performance Products, Swift Springs, Sybesma Graphics, Tire Demon, Wilwood Racing.