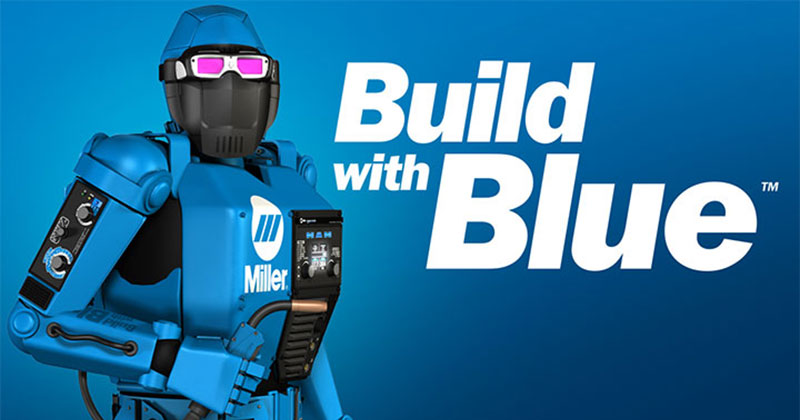 Miller® Build with Blue™ Winter Savings: Save Up To $700
---
Miller Electric Mfg. LLC is continuing its popular Build with Blue rebate program with Build with Blue Winter Savings. Now through March 31, customers can take advantage of two rebates totaling up to $700. Those who purchase an eligible Miller product can receive a rebate of up to $500. By purchasing additional Miller accessories or Hobart filler metals, customers can save another $200. This offer is valid only at authorized Miller distributors.
Customers are eligible for the following rebates when purchasing from this list of products:
• Multimatic® 215 multiprocess welder ($1,415 after $200 rebate)
The easy-to-use and versatile Multimatic 215 MIG, stick and DC TIG welder helps build skills. This all-in-one welder connects to 120V or 240V power and welds up to 3/8-inch mild steel.
• Millermatic® 255 MIG welder ($2,675 after $400 rebate)
Compact, easy to use MIG welder that welds up to 1/2-inch aluminum. This MIG welder is ideal for light manufacturing and fabrication users.
• Diversion™ 180 TIG welder ($1,989 after $300 rebate)
Perfect for the personal user, this AC/DC TIG machine has both 120V and 240V input power capability.
• Syncrowave® 210 TIG/stick welder ($2,245 after $400 rebate)
Ideal for light-industrial applications and personal users, this TIG welder does not compromise power or performance for affordable inverter technology. Pro-Set™ technology eliminates guesswork when setting weld parameters, offering speed and convenience.
• Bobcat™ 225 welder/generator ($3,790 after $300 rebate)
The quiet Bobcat 225 provides stick capabilities and generator power, making it ideal for farm, ranch and maintenance/repair operations or as a stand-alone generator.
• Bobcat™ 250 welder/generator ($4,305 after $500 rebate)
Quieter to operate, smaller/lighter, and easier to maintain than others in the industry. This rugged welder/generator is great for stick and flux-cored welding, ideal for outdoor applications including maintenance/repair, construction, and farm and ranch.
• Digital Elite™ Series helmet ($50 rebate)
Versatile helmet for demanding applications — featuring ClearLight™ Lens Technology.
Customers can also take advantage of more savings when purchasing additional Miller accessories or Hobart filler metals (excludes welders and plasma cutters).
Receive a $50 rebate when buying $150 in qualifying products.
Receive a $100 rebate when buying $300 in qualifying products.
Receive a $200 rebate when buying $500 in qualifying products.
For more information, visit a local distributor or go to MillerWelds.com/buildwithblue.